County of 40 Mile Farm Family of the Year nomination deadline extended
Posted on January 10, 2023 by Ryan Dahlman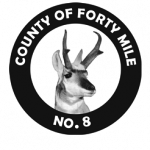 By Anna Smith
Commentator/Courier
A County of 40 Mile committee has a difficult choice to make later this month, as it has more than one potential Farm Family of the Year.
With an extended deadline there could potentially be more.
The deadline for nominations has been extended to January 15th, to allow more time for anyone looking to highlight a bastion of agriculture in the area.
"Our past winners of the Farm Family to hear from our community, represent and preserve the long standing traditions of agriculture and western values. I noted that they are not only leaders in the agriculture industry, but in their communities as well," said Deputy Reeve Stacey Barrows.
So far, they've received two nominations which is in part of the reason for the extension of the deadline, said Councillor Jim Babe. 
The Farm Family commitee now has to make a decision. Sometimes there have been single or no nominations at all.
"I was on the committee as a county resident (approximately) 20 years ago," said Babe. "They had a few non-councillors there. I remember we had a couple nominations at that point. It's really hard to make that choice, because of course, they're all good applicants or good nominees."
Anyone interested in nominating a family can get the appropriate forms, either at the County of 40 Mile office or at the 40 Mile Commentator office.
"We only have two urban communities between the Village of Foremost and the Town of Bow Island. There's so much to keep those communities thriving. Your rural agriculture families are usually a big part of those communities," said Barrows. "It is good that we're getting it out there for people to see because I think every farmer in the county would be eligible for this award."