Pheasants Forever Canada will be working hard along Highway 3 in 2023
Posted on January 10, 2023 by Ryan Dahlman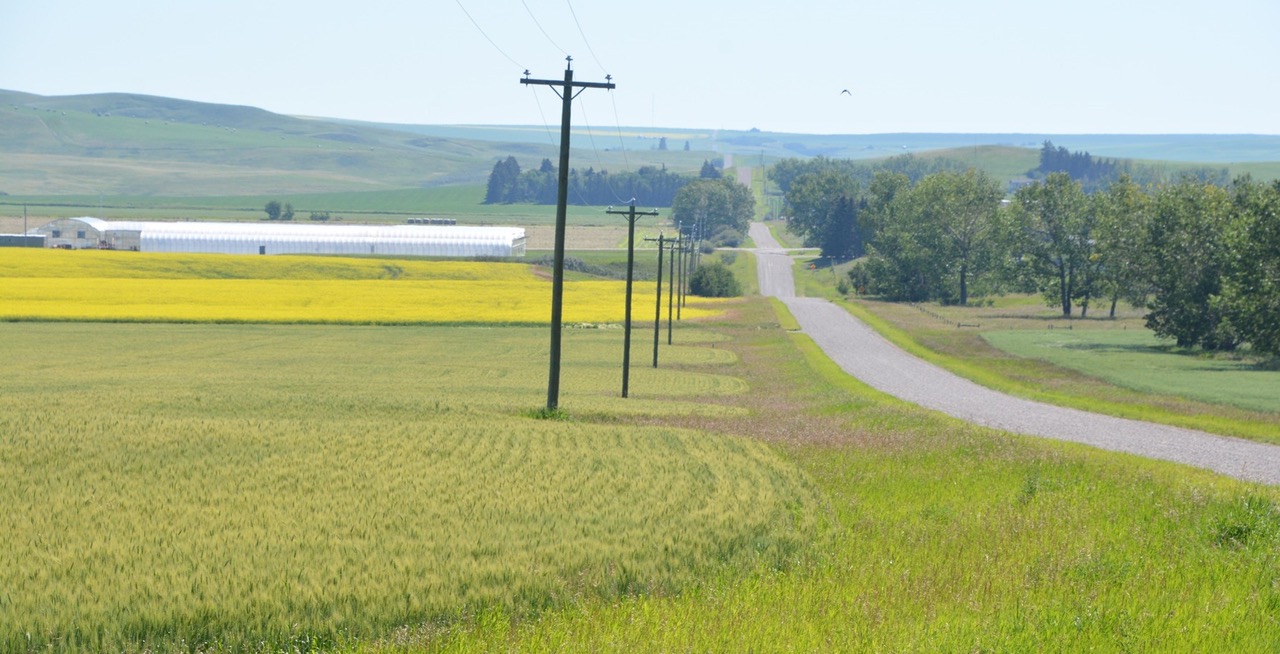 Picture of "Trespass Farming", where the producer has seeded around nearby lines. Photo provided by Pheasants Forever Canada.
By Anna Smith
Commentator/Courier
Pheasants Forever Canada wants to encourage Southeastern Albertans to take special care and love the prairie landscape, starting with an often-neglected but vital habitat: roadside ditches.
Pheasants Forever Canada (PFC) is a registered Canadian charitable organization, focused on conserving and improving habitat for upland game birds such as the ring-necked pheasant, and by extension, much of the natural prairie wildlife that calls this region home.
"We've been around just over 30 years," said Perry McCormick, president of Pheasants Forever. "We're grassroots, non-profit and we're a registered Canadian charity. We have raised approximately a million dollars a year in Alberta with three chapters. We have a chapter in Medicine Hat (Chinook), one in Calgary, and one in Red Deer. We do what we can to help protect, enhance and conserve upland habitat in Southern Alberta."
Save the Edges is a more recent campaign, which began last year in the spring, and aims to spread awareness to the dangers of trespass farming and the harm it can do, as well as the benefits of unaltered ditches and right-of-ways. 
"We started the awareness campaign last year. UCP government came up with a conservation strategy document and in the document, they mentioned the desire to enhance the protection of roadside ditches and right-of-ways from trespass farming — this was before the UCP government took office," explained McCormick. "Then they were elected of course, and I approached the then Minister of Environment parks, about helping the government with their concerns about the protection of roadside ditches and right-of-ways. They ended up giving us a grant just over a year ago to take on an awareness campaign for the natural benefits that intact roadside ditches provide to society."
The campaign focused in the spring, when most agricultural workers would be doing their seeding and the area Pheasants Forever seeks to protect is at the most risk to trespass farming.
Trespass farming is a practice where, in a place where there is no fence to distinguish between private and public land, a producer chooses to cultivate land beyond the boundary of their property line. This allows for a potentially higher yield, but destroys important wildlife habitat where there is already very little available land.
"We've had real positive feedback on our messaging. It's irrefutable stuff. As you know, roadside ditches and right-of-ways are public land. They belong to the people of Alberta and they do bring lots of natural benefits to society," said McCormick.
Southern Alberta has lost roughly 85% of its natural wetlands, which served as the filtration system for the region. Without these, many roadside ditches have picked up some of the slack, preventing algae blooms in our bodies of water, as well as helping to reduce the effects of overland flooding, storing carbon, and providing a home for pollinators and wildlife that feeds on pest species.
"The primary reason that we're here, we're here in this game is birds like the Hungarian Partridge and the Sharp-Tailed Grouse and the Ringneck Pheasant are all what we call 'birds of the edge,' they require intact edges," said McCormick. "When you've got good edges around cereal crops, it's beneficial for upland game birds and other wildlife. Although our focus is upland game birds, we are definitely here to support biodiversity in Southern Alberta."
This coming year, Pheasants Forever intends to focus some of its efforts in the Taber and Foremost area in their meetings with public officials and residents alike, to try and preserve the edges that remain in the rapidly shifting landscape of the Highway 3 corridor, and maintaining what remains of native grassland, about 70% of which has been lost, said McCormick.
"One of the concerns that we have in southern Alberta is a changing landscape. And that seems to be a high probability moving forward for southern Alberta," said McCormick. 
"I see that Highway 3 has been called the Green Energy Corridor of Canada and unfortunately, large tracts of green infrastructures, windmills, and solar panels are not friendly to biodiversity," said McCormick. "That, coupled with the reality that 278 kilometres of irrigation canals are going to be lined or turned into pipelines. Our landscape is going to change significantly in the near future. And none of it is favourable to biodiversity and or upland game birds. So the notion of protecting what we can, and keeping our public land public, will be our focus."
Those looking to do their part to protect the wild, rolling plains that make this corner of the province so unique simply need to take a moment to notice their nearby edges, said McCormick, and treat them with the same care they would any natural habitat.
"Help carry the message," said McCormick. "Just like landowners, our society has to respect our ditches and right-of-ways and little things. Don't use right-of-ways as a dump yard. Don't use ditches as garbage cans. Similarly, landowners have to be careful, producers have to be careful with their use around up. We're hearing the counties and municipalities suggesting that there's been significant wind drift and that the roundup gets into the ditches and kills the vegetation that's there, and then what comes up as weeds, and then they've got to manage that problem. So that's a few things."
"It's one of those things that nobody else has really looked at or cared about," said McCormick. "Once you point it out to people, everyone looks at those places a little bit differently and kind of no one can refute that. That they are something that is disappearing, and it's not right."