St. Michael's School breakfast program fulfilling
Posted on January 31, 2023 by Ryan Dahlman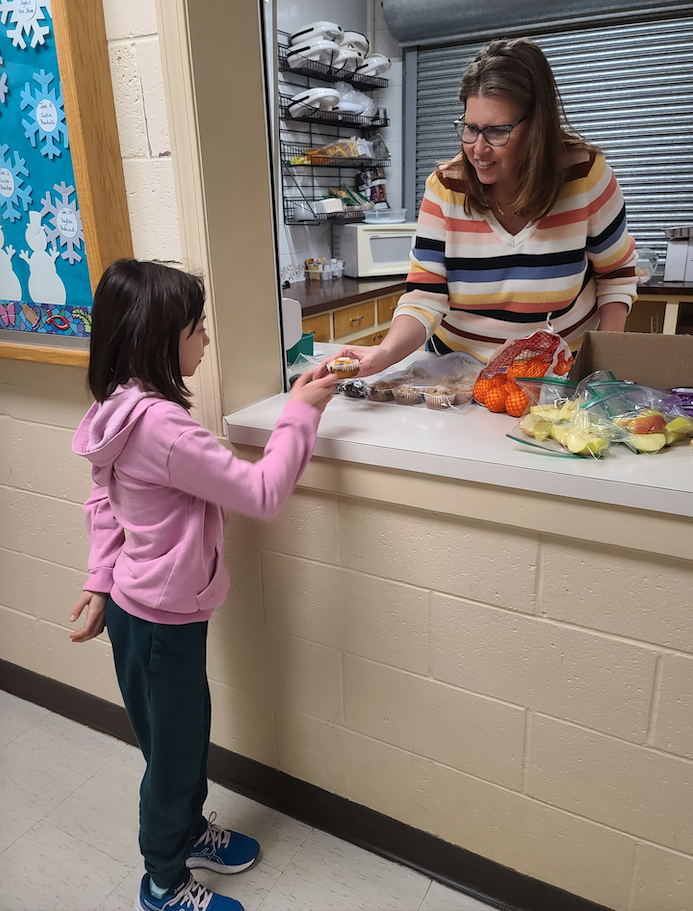 A student accepts a homemade muffin to start the school day as part of the St. Michael's Bow Island breakfast program. Photo provided by Jill Weatherhead
By Anna Smith
Commentator/Courier
Tuesday and Thursday mornings at St. Michael's School are just a little more special, thanks to their new breakfast program.
The program is still a bit of an experiment, which started back in November explained St. Michael's School's Associate Principal Jill Weatherhead. Those two days were picked to best allow every student to partake of what was on offer.
"It's for all of our students of all grades, and it is definitely open to everyone, and everyone enjoys it," said Weatherhead, who added that the days were chosen to allow for the kindergarten class to enjoy a breakfast as well.
"When we say breakfast, it's usually a healthy cereal choice, a homemade muffin and a piece of fruit. So we aren't quite to the point of scrambled eggs and bacon yet, or pancakes," said Weatherhead. "It's definitely a nice little tummy filler for anybody that might not have had time to eat or might not have been able to eat that morning for whatever reason, or even if they're just hungry again, right?"
Some of St. Michael's students have an hour-long bus ride, said Weatherhead, and many students may be hungry again after arriving at school.
"We obviously know that hungry kids can't learn. So, any chance we can, kind of evens the playing field when it comes to our physical needs. That was, that was the priority," said Weatherhead.
The program is funded by part of what was raised at the school auction late last year, said Weatherhead.
"The money earned at our auction has been designated through our school council as the funding body right now. In addition to those funds, we also have people donating some small donations," said Weatherhead. "We voted in November to try it. It was an excellent source in October, when we voted for it at the school council, and the trial run was in November. It was very well received. A motion was made to continue it for the rest of the year. Now we are in our third month of it, and can hope to continue until the end of the year for sure, if not longer."
The idea had been brought up many times over the years, with this finally being the opportunity to try and implement it. 
"It's in its early stages, but it's exciting that something so simple is doing so much for the students," said Weatherhead. "It's free, so it's just an equalizer. Whether it's something that the kids just snack on, throw their first block, or, you know, or they gobble it down — whatever works."
"It's offered, you know, in that morning, drop off time when everybody's here. It's we who are hawking our wares, so to speak, we are calling down the hall, 'hey, did you get your breakfast? Did you want something? And so it's a very friendly and, you know, like, familial environment," said Weatherhead. "We are thankful that we don't have to worry about costs in that regard, either. Like, obviously, we don't want to waste food. But it's at such a point where there is definitely a universal approach."