Donors come together for crucial feeding robot for Bow Island child
Posted on February 14, 2023 by Ryan Dahlman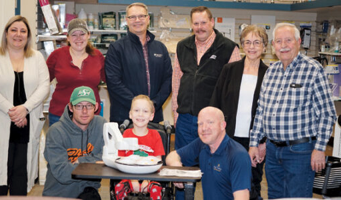 Back row from left, Crystal Eichelbaum (co-owner of Adapt Mobility), mom Rebecca Hintz, Pat Quinlan (general manager and part owner of Sun City Ford), Evert Foster (general manager for southern Alberta with Manitoulin Transport), Gladys and Richard Harty (private donors). Front row from left, dad Jamie Hintz, Reid Hintz (with his new Obi, a robotic feeding device) and Trevor Eichelbaum (owner/operator of Adapt Mobility). Alberta newspapers photo by Samantha Johnson
By Samantha Johnson
Alberta Newspaper Group
This past Friday, and with the help of some donors, Adapt Mobility presented a piece of new equipment to Reid Hintz, a nine-year-old boy from Bow Island who is affected in all four limbs with severe arthrogryposis multiplex congenita (AMS).
Reid has featured in several of Adapt Mobility's commercials and has become their superstar.
Obi is a robotic feeding device developed in the U.S. As it is portable, it will allow Reid to use it anywhere. The device has a spoon which Reid controls with two small buttons to scoop food from one of four dishes at the base and bring directly to his mouth, giving him another level of independence.
Trevor Eichelbaum, owner and operator of Adapt Mobility, explained everything began in 2019 when Reid starred in one of their commercials.
"That's where it started, and a local couple (Gladys and Richard Harty) called in to say they had been moved by Reid, his story and the commercial and wanted to help him out in some way."
After some discussion, Eichelbaum and the Harty's came up with the Obi because it will help Reid for the remainder of his life. The Harty's were the ones who got the ball rolling, with Adapt Mobility stepping up and lowering the price on the equipment, along with Manitoulin Transport and Sun City Ford also making donations toward the Obi.
"It's amazing," said mom Rebecca. "It was a dream. It wasn't something that we could provide for Reid. Our family is so grateful for the community. Trevor has been with Reid since he was two-and-a-half years old and so we are just excited to add more people to our family."
The Harty's explained that their hearts melted after seeing Reid on TV.
"We've seen quite a few ads of him through Adapt Mobility," said Gladys. "And we thought it would be kind of nice if he needed something else maybe we could help him out, and it blossomed from there."
The couple is retired and spends winters in Medicine Hat and spring and summer out on the family farm south of Etzikom. They weren't expecting the media event when they offered to donate the money but were happy to be there and meet Reid.
"I guess the timing was right for us to reach out and help," added Gladys.
Evert Foster is southern Alberta's general manager for Manitoulin Transport.
"Every year, because we are such a large company, we always look at giving back to the communities we provide service to," Foster said. "I look at my two locations, which is Lethbridge and Medicine Hat, and areas where we can give back to the community, either charities or individuals like Reid who need the extra support."
Eichelbaum reached out to Sun City Ford to round out the funds needed for the Obi.
General manager and part owner Pat Quinlan said, "We got the letter from Trevor. When I read through it, I was pretty touched. For me, anything that has to do with community or helping out someone in need, we've always stepped up. This looked like a really good opportunity. Trevor is a good customer of ours, we thought why not support him and support this young man. I hope it makes his life a little easier."
When the equipment was presented to Reid, he knew right away what it was. During teaching the Obi where Reid's mouth was, it took a few tries, with the spoon wavering back and forth but not reaching his mouth.
"It seems confused," said Reid. His mom had brought some food, tortellini, mini-Ritz crackers and fruit that were placed in three of the bowls in the base and Reid was hungry, so he got it operating properly. "Wow, that thing's cool. It works!"
The Hintz family lives in Bow Island and has two older brothers. Reid is in Grade 3 at Bow Island Elementary but is missing some school this week as he is scheduled for his 11th surgery.