Forty Mile opens new operations centre
Posted on April 20, 2023 by Ryan Dahlman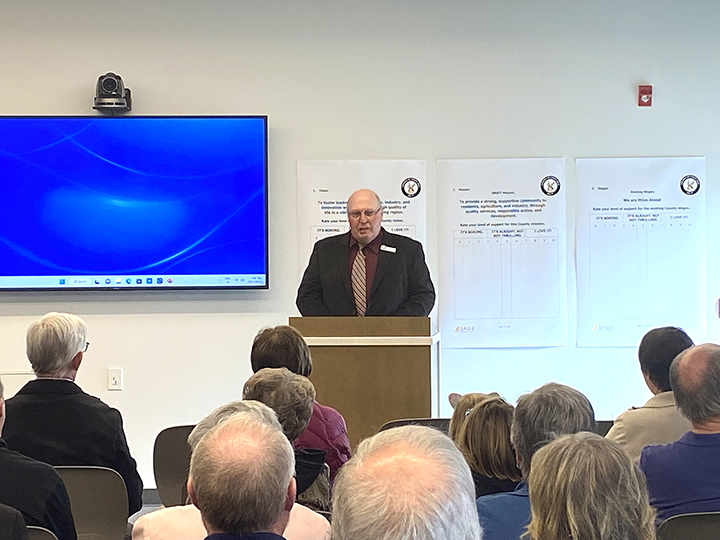 By Anna Smith
Commentator/Courier
The future has never looked quite so efficient, as the County of Forty Mile No. 8 showcased how they remain 'miles ahead' and welcomed residents in for a tour of their new Consolidated Operations Centre.
"So several years ago, our council and administrative staff had a vision to consolidate our departments and operations into one location; to improve the efficiencies and better serve the ratepayers that come and I'm glad to see many of the faces (of) past councillors and staff to help us with that vision are here today," said Reeve Craig Widmer, as part of the opening to the April 11 event.
"Today, I'm proud to say that we've achieved our vision. As we look to the future, we're excited about the growth we've experienced in recent years, particularly in agriculture, agribusiness, value-added, commercial building and renewable sectors," said Widmer. "This diversification will bring positive benefits to the county residents and communities for generations to come."
The event was attended by MP Glen Motz and MLA Grant Hunter, who both congratulated the county on their step into the future with the new, energy efficient building, and expressed hope that it would serve all of the departments well.
The project is one that dates back several councils, said CAO Keith Bodin.
"With ageing infrastructure and an economy in decline, we recognized the need to improve our efficiencies and capitalize on pricing to get people back to work," said Bodin. "Although there were unexpected hurdles, including impacts of the pandemic, economic and weather factors and supply chain issues, we were able to make the building on budget, and took occupancy in September 2022. We look forward to spending many years in a functional and efficient facility that allows for future growth."
Part of the county's new look comes directly from its residents, as some of the artwork, including the painting in the main lobby, was originally a submission to the photo contest launched in the spring of 2022.
"We also want to express our sincere gratitude to all of the residents who have participated in the contest and shared their incredible photographs with us. Your enthusiasm was contagious and we were honoured to showcase your work," said Bodin.
During the presentation, the county took the opportunity to divulge both some of their Draft Strategic Plan, highlighting their priorities for the future, as well as information surrounding the 2023 operating budget.
"We work hard to maintain our high standards of service while also being fiscally responsible. Our annual operating budget for 2023 is approximately $15.2 million," said Kerri Buis, director of finance. "We have kept our tax rates steady while investing in key infrastructure projects to ensure that our residents have access to the services and amenities that they need. Capital projects for 2023 have not been finalized, but we are prioritizing equipment, utilities, and infrastructure deficit to ensure that we're investing wisely in our community's future."
Visitors were encouraged to give feedback on the Draft Strategic Plan, including with sticky notes and an online survey with was conducted up until April 14. The results will be shared with Council at an upcoming meeting.