Cactus Country District 4-H Clubs going strong
Posted on May 25, 2022 by Ryan Dahlman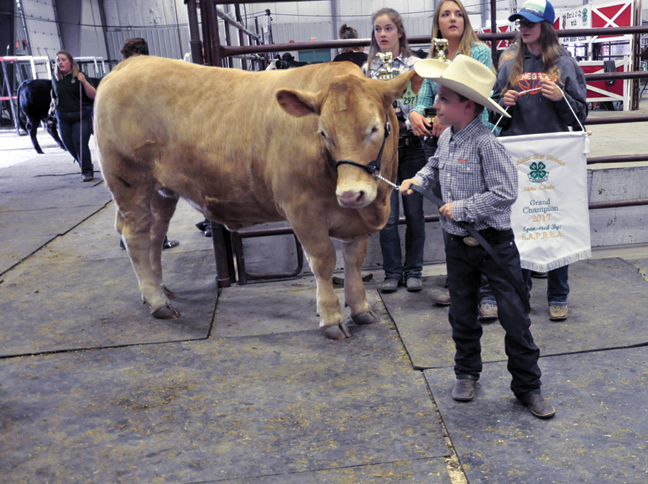 Getting that Grand Champion banner will be a goal for 4-Hers with upcoming sales.
By Samantha Johnson
Commentator/Courier
With seven 4-H clubs in the Cactus County District and numbers up in many of them, it has been a busy year. The Show and Sale for the district will be held on June 10-11 at the Medicine Hat Exhibition and Stampede grounds, the first since 2019, and will be packed not only with animals but with other projects, such as welding, leatherwork, and quilting, that 4-H members have been working on the past two years. 
Shirley Elliott, Key Leader of the Cactus County District, is involved in some aspect with each of the seven clubs, two in Medicine Hat and Seven Persons, and one from Hilda, Irvine, and the Generations of Tomorrow Club. Bindloss chose not to be a club this year due to a lack of members in that area. Elliott is uncertain if they will come back next year and some of the members in that area have joined a club in Oyen. 
"10 years ago, we were fighting to keep Seven Persons a club, it's that cyclical thing where everybody was aging out and there weren't any youngsters coming up the ranks," said Elliott, and this is what is presently happening in Bindloss.
There are about 150 members between the seven clubs and there are two components. The Cleavers are the 6–8-year-old group who are practicing to be full 4-H members. Full 4-H members are 9-21 years old. Not everyone leaves after finishing high school, some stay on after they are at a secondary institution, such as Medicine Hat College, and become leaders, mentoring the younger kids.
Elliott is most connected to both the Seven Persons Beef Club and the Medicine Hat Multi Club and numbers are up at both. MH Multi has increased by about 4-5 members, but the Seven Persons Beef Club currently has 44 members and 12 Cleavers. 
"Now it's just taken off," said Elliott, "and the beef club has about 19 projects this year." The members raise heifers, steers, sheep, pigs, and goats. 
At the Show and Sale in June every member that has a four-legged animal will be showing them in some capacity and possibly selling them on the Saturday. Steers are fed for 200 days, sheep for 60 days, pigs for 75, and goats are not sold because they are all mostly dairy animals for breeding. 
"We show all the female and small animal projects on the Friday afternoon (June 10) and then starts at 9am the next morning with the steers, so some of the kids have been in the barn since 6am washing and grooming their animals," said Elliott. They five beef clubs show individually on the Saturday morning (June 11) and later in the day, the top two from each club come together for a district award, along with buckles, and other prizes. The sale portion of the event happens in the afternoon, starting at 2 p.m. 
This year will see about 70 steers and 15-20 sheep being shown and sold. The ones that are not sold are purposely kept back as female breeding stock for the next year with some of those projects continuing for up to three years. 
A member "can start with a heifer this year then show her as a cow/calf as a two-year-old and again as a cow/calf as a three-year-old," explained Elliott. 
The money made from the sale of their animal goes back to the members. 
"That member has paid for the animal to begin with in November (often with help from parents), they pay for the feed and then get the money back from the sale," said Elliott. "Many members are putting most of the cheque into a college fund, I would say 90% of them are doing that. The kids get good money, it is nice to see the support of the community and how much money they get. It's not realistic if you just took (the animal) to the auction market, but it is a 4-H project and kids are being supported, that's where the community steps up so much, it is unbelievable how many of them buy a steer."
Another component to the Show and Sale is that non-animal projects are going to be showcased, such as welding, leatherwork, and quilting. Those interested in welding go to Kurt's Iron Work's Ltd. in Medicine Hat on Tuesdays or Wednesday evenings The welders at the shop love it and come in to help the kids. Depending on how large the project is, it can take about five weeks. 
Last year Elliot had a group 27 and this year she has 12 making rag quilts. Quilts from the last two years will be on display as well at the Show and Sell. 
"I am hoping for 40 quilts on display and there are leatherwork projects as well. We have the very talented Laurie Plante out in Seven Persons who works with leather, and they meet on Saturday afternoons," said Elliott.  
The clubs themselves are run by the members with a President, Secretary and Treasurer being voted in at each individual club. Monthly meetings are held with an agenda and minutes taken. The parents step in with advice at times, but it really is the kids who make the decisions on what they do, such as their community service, or how to spend money raised if they hold a fundraiser. 
There are five components to being a 4-H member that each must complete: keeping a record book, completing a community service, attending a communication event, attending an achievement day, and attending 70% of the club activities
The record book teaches a member how to keep records, which includes cost, expenses, and profit loss margins, along with how much time they spent on the project. 
The community service portion is done as a club. The Multi club used to go into Senior's home and help decorate for Christmas or go carolling down the halls. Seven Persons club has cleared tables at the HALO Gala. If a club chooses Highway cleanup they get paid for the service by the Provincial Government, which acts as both a fundraiser and a community service. Many 4-H clubs across the province took part in a highway cleanup on Saturday, May 7th this year.
The communication event is to assist the members in public speaking, which is done at the club, district, and regional level. Seniors can go to provincials, where the top two from each of the seven regions in the province compete in public speaking. A regional competition for the South Region (south of Calgary to the USA border and from the BC to Saskatchewan border) was held in Seven Persons this year. There are 10 districts in the region and the top two from each district came to compete. 
"Seven Persons grew by 300 people that day (in March). We haven't been able to hold one for two years and we were at the school, church, and hall. The members pick the topic they speak on and, as they get older, we expect more research and quotes with references with a more in-depth topic," explained Elliott.
Each member must also attend an achievement day, such as the Show and Sale for the beef kids. "Other clubs, like the horse club, will have a day where they do some fun competitions and to celebrate that the year is over. The Multi club has a day where everyone is going to be out at Longfellow Hall and they set up a table for each member to show off their projects, such a quilt they made, or some welding, cooking, photography. There are so many projects the members can do. Anything can be a 4-H project if they are doing something, learning a skill, recording it, and showing it off," said Elliott.