Agriculture critic does not like Health Canada labelling plan
Posted on June 23, 2022 by 40 Mile Commentator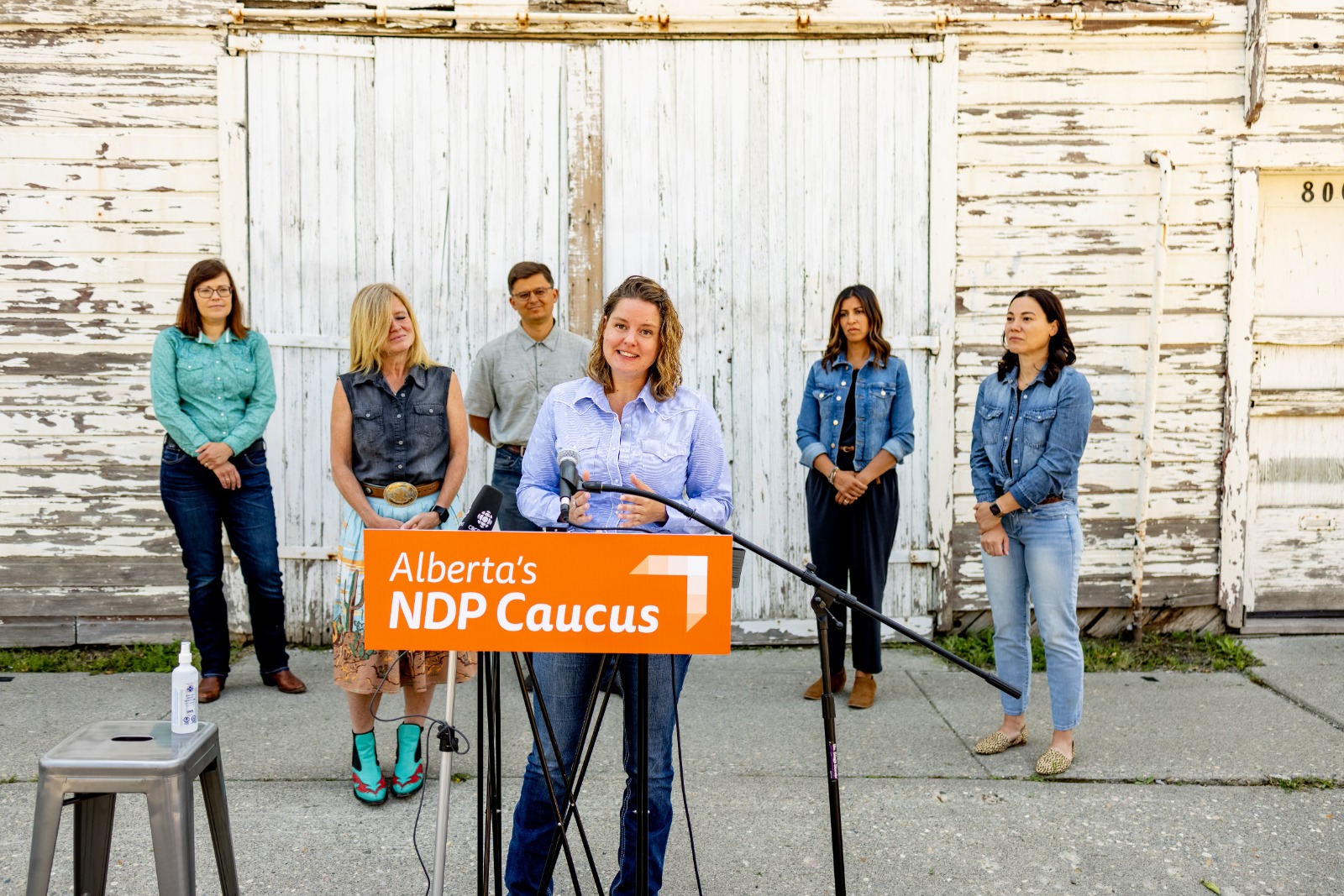 File photo Heath Sweet (at podium) doesn't like Health Canada's plan.
By Anna Smith
Commentator/Courier
The Official Opposition critics for agriculture in Alberta, Saskatchewan, and Manitoba are asking for the federal government to reconsider the proposed requirement for ground beef and pork to have front-of-package labelling.
The requirement is discriminatory against beef and pork producers, said Official Opposition Critic for Agriculture Heather Sweet.
"They are only targeting ground beef and only targeting ground pork, they are giving an exception to dairy, eggs, and other proteins," said Sweet. "And so that's the issue, obviously, because this discriminates against only one small section of our protein, we've asked the federal government to reverse that decision."
The reasoning for this decision, said Sweet, is that according to Canadian Health regulations, the saturated fats found in ground beef and pork is higher than the recommended daily intake. However, the information is missing some important context.
"They are speaking specifically to raw meat, which we all know, we cook our beef and we cook our pork. And so when you do that, you remove the saturated fats from the product," said Sweet. "The warning label that would be put on the front of this ground product will actually not relate to the cooked product that will be finished at the end of this."
Sweet, in Red Deer for the Beef Producers Conference at the time of the interview, said that there is significant concern from producers not only here in Alberta, but across the prairie provinces.
"We've heard from the Canadian Cattlemen's Association, Alberta Beef Producers, and others, all with the concern about this basically discriminatory practice. In part of that, as well as that we also know is a significant issue to the point where my colleagues in Saskatchewan and Manitoba also co-signed a letter with me to the federal government on behalf of their constituents," said Sweet. "So producers across the prairies are coming out and speaking to their concern about this, and how much of an impact it's going to have on our producers."
If this practice moves forward, Canada would be the only jurisdiction in the world with these labels on the front of ground product, said Sweet.
"So the question again, is why are we putting another barrier in place at a time when our ranchers and our producers have been already faced with droughts over the last year, increase feed costs, increased fuel costs, and all the other demands that come with production, to now put another barrier in place in relation to export markets? It just doesn't make sense," said Sweet.