Saddles 'n' Spurs Light Horse 4-H Club enjoyed a great 2021-2022
Posted on October 26, 2022 by Ryan Dahlman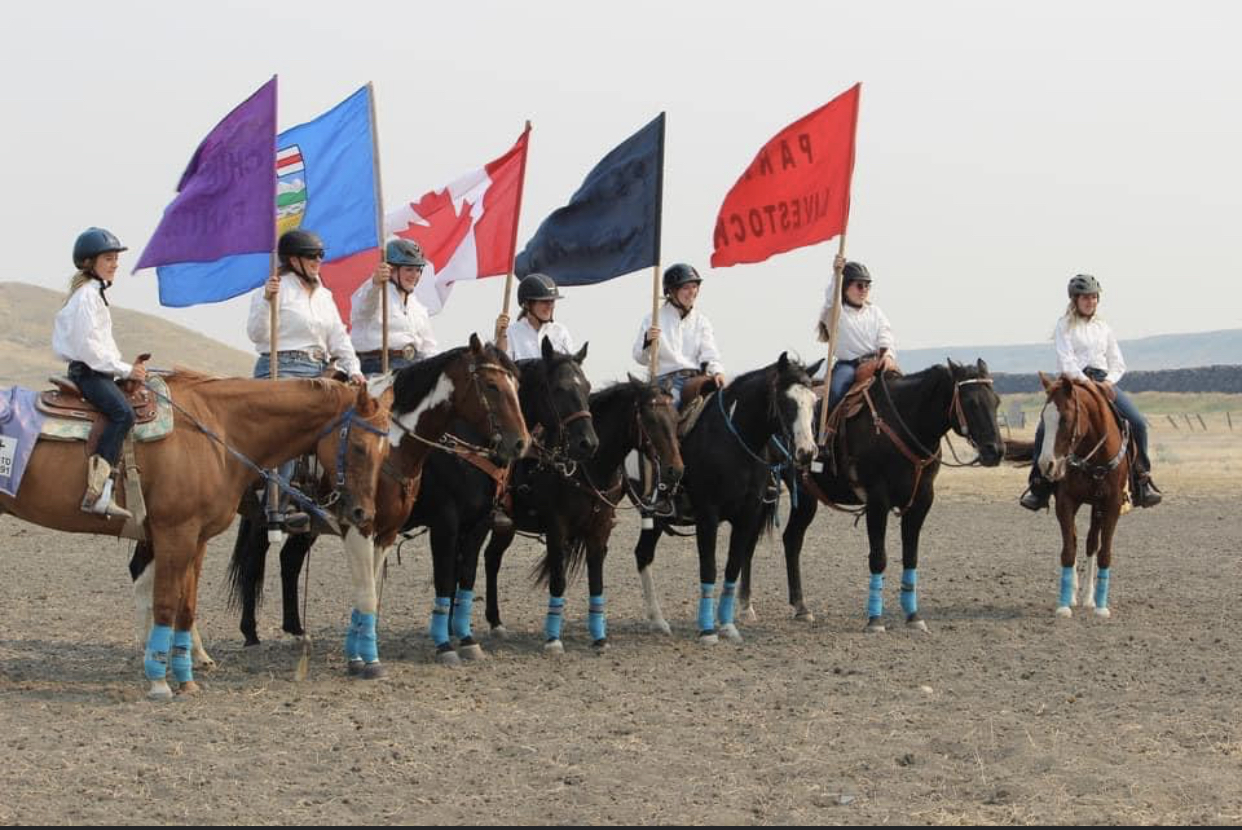 Submitted by Talayna Miller
We started off the 2021-2022 with 21 Members: 8 Juniors, 9 Intermediates, and 4 Senior Members. Our club executive members are: President: Charlatan Sandford, Vice President: Emma Baedke, Secretary: Talayna Miller, Treasurer: Ridley Elliot, Historian: Jada Silcher, and Club Reporter: Karley Appell, Jr. Council Representatives: Charlatan Sandford, Brooklyn Bailey, and Halley Waye. Other Club Members: Brooklyn Bailey, Emyrnn Cashato, Kiki Gaetz, Evvy Hutchingson, Lyla
Isberg, Aidyn Martens, Callie Martens, Ryder Martens, Denae Schafrer, Mathis
Schafer, Abby Schulte, Myla Silcher, Anneke Stuut, Halley Waye, Olivia Wisnowski.
The Club Leaders are: General Leader: Pam Baedke, Assistant Leader: Marcella
Miller, Mounted Leader: Lisa Newby, Dismounted Leader: Holly Padfield,
Achievement Day Leader: Marni Elliot, Record Book Leader: Megan Wisnowski, and Communications Day Leaders: Melissa Bast and Julie Waye.
We had three clinics this year. A roping clinic with Jared Pancoast, a barrel racing clinic with Dana Lovell, and a horsemanship clinic with Jim Anderson.
For the Christmas Party, members were asked to dress up their project horses with festive decorations and also dress up themselves with their favourite ugly Christmas sweaters. We also had our community service where we put together previously gathered materials to help out the community by creating food hampers and care bags for the Medicine Hat Police Services to hand out during the holidays.
For our Winter Project members gathered at Longfellow Hall to do a leather workshop, making nosebands for a halter with Laurie Plante.
Our Club Communications Day winners were: Jr. Speeches: 1st Place: Callie
Martens, 2nd Place: Halley Waye. Intermediate Speeches: 1st Place: Talayna Miller, 2nd Place: Ridley Elliot. Senior Speeches: Brooklyn Bailey. Jr. Presentations: 1st Place: Emrynn Cashato-Silcher, 2nd Place: Olivia Wisnowksi. Intermediate Presentation: 1st Place: Emma Baedke, 2nd Place: Karley Appell. Well done everyone!
Our club participated in the annual highway clean-up. It was a great time to connect with one another while helping the community clean up garbage.
Our Achievement Day was on June 11th, 2022. We did formal events, such as a trail and tail-in-hand class in the morning and then fun horse games took place in the afternoon. Ribbons and prizes were given out at the end of the day.
We then wrapped up the 4-H year with Irvine Grand Entry on September 4th, 2022.
It was a neat experience for everyone and a great way to end the 2021-2022 year.