Medicine Hat Beef Club Year End Summary 2021-2022
Posted on November 3, 2022 by Ryan Dahlman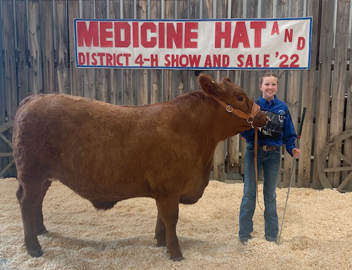 Contributed 
The Medicine Hat Beef Club has another successful year in 2021-2022. We were able to resume the show and sale and a number of events that were affected due to COVID. It was nice to be back to business as usual. 
Club Executive
Meranda Lehr – President
Jorja Lunquest– Vice President 
Kohen Osadczuk – Secretary
Logan Pancoast – Treasurer
Leigha Pancoast and Brekkyn Van Buskirk – Club Reporter
Additional Club Members: Niklas Lehr, Ryder Van Buskirk, Lauren Pancoast
Club Activities
The year started out with club weigh In. Members participated in Steer, Heifer and Cow Calf Pair Projects this year.  We were also able to complete a Topical and Injectable Workshop, a Diary Workshop, Record Book Workshop and a Halter Workshop. Members participated in the Female and Market Animals shows to present their projects at the Cypress Center in June. 
Highway Cleanup
Our club took to the streets to clean up the roads and raise some money for the club at high way cleanup. 
Community Service
We were able to participate in some community services at the Ronald McDonald House. We tidied up the yard, planted some trees and prepared their patio boxes.  
Club Projects
Club projects for 2021-2022 included both Market Beef, Heifer projects and First Calf Heifer Projects. (THE FOUR PHOTOS)