Dunmore Equestrian hatches a plan to reach seniors
Posted on May 14, 2022 by Ryan Dahlman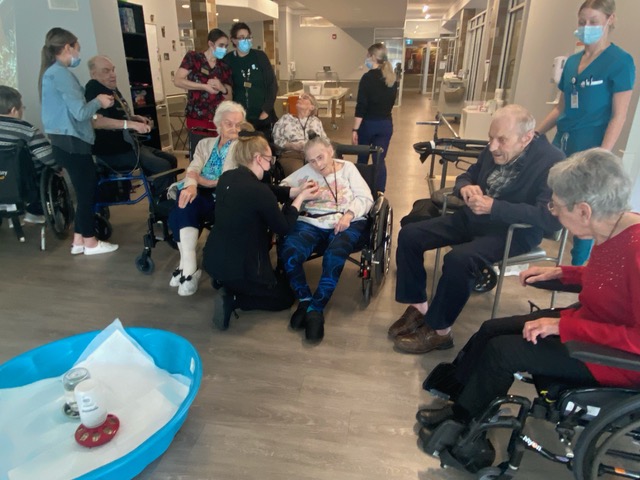 Seniors at Masterpiece gathered around a small swimming pool used to keep the chicks contained when they're not being held.
By Anna Smith
Commentator Courier 
Dunmore Equestrian has put in the work for something special for seniors, in the form of some spring chickens that hatched last week in several care facilities in the area.
Joyce Stuber, a director with Dunmore Equestrian, selected several senior homes she was familiar with within the city of Medicine Hat, and set up incubators for several eggs at South Country Village, Masterpiece Retirement Home, Good Samaritan South Ridge Village, and Chinook Village.
"I did a little program first. I went in on a Monday, set the incubators in their setup a little. It's quite cute. I have a little farm from Fisher Price with the animals, and then I have the incubator," said Stuber. "I had a brooding pen with a heat lamp on it. So I set up on Monday and then on Wednesday, I actually went and did a program for what I was thinking would be a half an hour, it ended up being an hour and a half because they shared stories."
Stuber notes that the seniors have been delighted with the new additions, and the enthusiasm for the young chickens has been very high throughout the process.
"You have no idea, people are so excited. They're hanging out by the incubator, and they're watching for peeping. it's pretty cool, and it's getting people out and about that normally don't," said Stuber. "And it gives them something to look forward to. And it's the buzz of the community homes."
The chicken hatch, as well as a butterfly hatch program to take place later on in the year, were made possible through a grant given the Canadian government, The New Horizons for Seniors Grant. This grant will fund both hatches, as well as the  Dunmore Equestrian Paws and Hooves pet visits program.
"At Masterpiece, I actually brought some of the egg chicks in that I incubated. And they went and took out a little swimming pool, set it on the floor, and some of the seniors that can't really do very much. And they just watched them and loved it," said Stuber. "Like they thought that was pretty cool. So that way they were contained. They did pick them up for the ones that could handle them and let them hold them."
Stuber adds that part of the goal was to give the seniors something to look forward to, and that some of the homes had started to place guesses on which eggs would hatch first, and write names on the shells, adding to the interest of the residents.
"Some of these chickens will return for a pet visit this summer, along with my favourite pets, my mini donkeys. I have also rounded up some farm friends to bring sheep, mini fainting goats, ponies, rabbits and more. I am looking to see if the animals can stay overnight in the grassed fenced areas at some homes," said Stuber. "This project has given me and my few volunteers so much pleasure in seeing how it has impacted the seniors, workers and family members. Our senior population has been hit the hardest with the COVID regulations and isolation. Through this project my goal is to bring them a little joy and happiness."