Tradition with Redcliff Tree Dedication will take root May 28
Posted on May 14, 2022 by Ryan Dahlman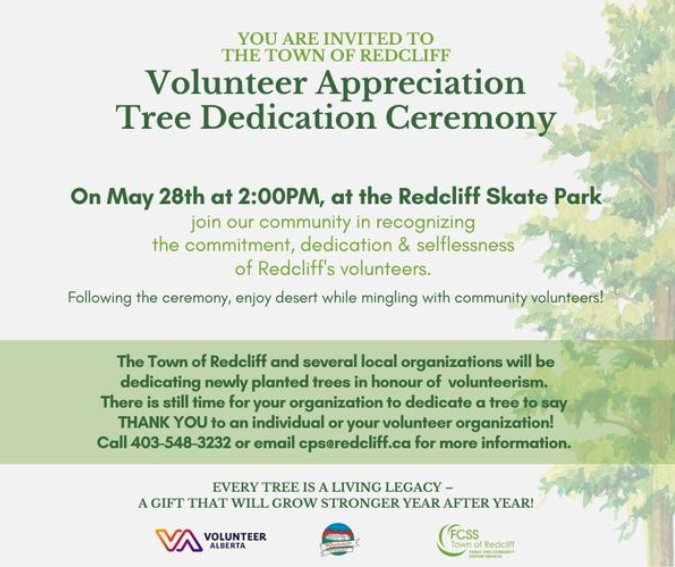 By Anna Smith 
Commentator/Courier
Just like the new trees being planted at the Redcliff Skate Park, the Town of Redcliff's dedication ceremony aims to prove their appreciation for their volunteers will only continue to grow.
The tree planting ceremony is scheduled to take place on May 28, 2 to 4 p.m. The reasoning behind the location, the Skate Park, is more than just practical.
"The Redcliff Skate Park was chosen so the trees can provide shade to skaters and spectators during the hot summers months, and also because the Skate Park is busy and frequented by children and families, our Town's future volunteers," said Phyllis Forsyth, Municipal Manager for the Town of Redcliff.
So far, eight different organizations have dedicated the newly planted trees to their volunteers, be that specific individuals or entire groups that make such important work possible.
At the event, a representative of each dedicated tree will have a chance to speak about their organization and volunteer opportunities before placing an inscribed 'tree charm" around their tree.  After the dedication, the public is invited to stay for the cake cutting ceremony, to mingle and learn a little more about how they can volunteer in our community, said Forsyth.
The event was originally going to take place in April, during National Volunteer Week, but had to be postponed due to the weather. 
"Volunteers show concern, compassion or passion about something or someone other than themselves.  They put in time, effort and commitment to help people and causes that make differences to people within the community," said Forsyth. "These very caring people give up their time, talents and knowledge for no monetary gain and so the tree dedication is just a very small thank you to a deserving group of individuals."