SEAWA restores many kilometres of land in County of 40-Mile, Seven Persons Creek, Medicine Hat
Posted on May 25, 2022 by Ryan Dahlman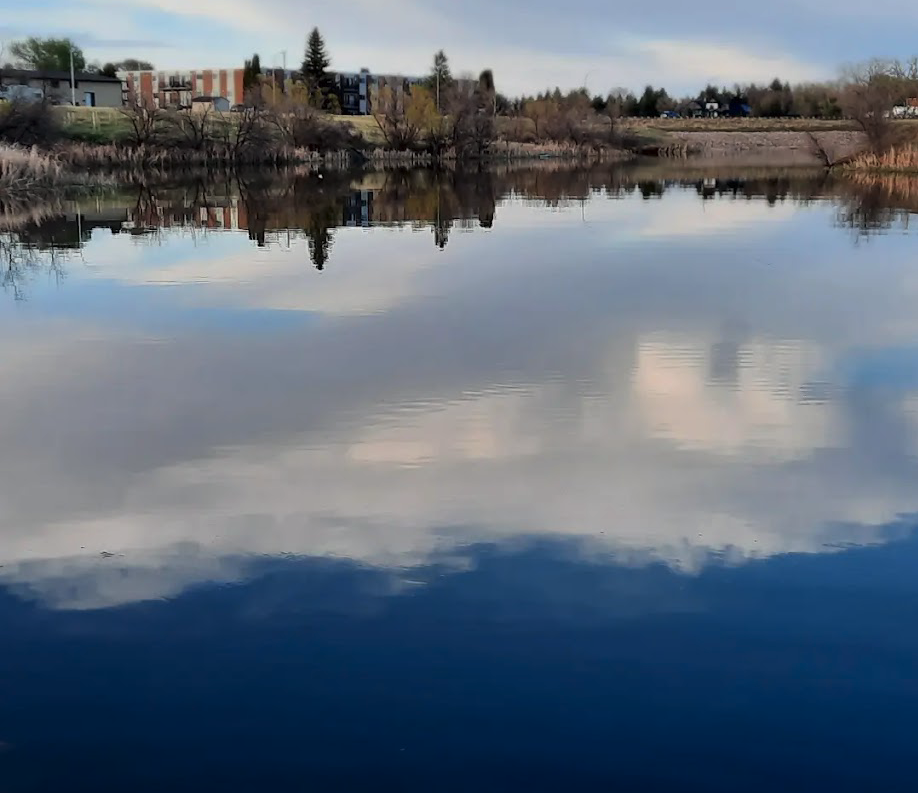 Connaught Pond
By Anna Smith
Commentator/Courier
After four years of hard work, the South East Alberta Watershed Alliance (SEAWA) are proud to announce more than 11.5 kilometres of land has been restored.
More than two kilometres of this land has even had native trees and shrubs reintroduced, said Marilou Montemayor, Executive Director of SEAWA.
"The work is still ongoing," said Montemayor. "These riparian areas, those are the areas that are adjacent to water bodies, and in between the water body and the upland? We have 10 restoration sites, and eight landowner partners. And we had different methods of restoring degraded riparian areas."
This vital work included fencing, installation of off-stream livestock watering systems, said Montemayor, who added that the fencing was both for livestock in rural areas, and to keep pets and people away from the more urban sites.
"We calculated that we have restored a total of 11.5 kilometers over the period of four years," said Montemayor. "And 2.1 are about two kilometers of those that were revegetated. That means we planted native shrubs and trees and these 2.5 kilometers kilometers are located or split into four different sites."
Two of these sites are within the City of Medicine Hat, at Connaught Pond and Saratoga Park. The other two were Sauder Reservoir in the County of 40-Mile, and Seven Persons Creek.
"We planted about eight species of shrubs, native species and three species of native trees. In addition to the actual underground fieldwork, restoration work. We also hired a consultant to assess riparian health of creeks and lakes or reservoirs and that total riparian health assessment totalling 834 kilometers," said Montemayor. This assessment was done using an aerial method, but was calculated on the ground. 
The work encountered many challenges, including livestock, wildlife, and noxious and invasive weeds competing with newly transplanted native flora. The handling of these weeds, in addition to watering, took up many days for volunteers, especially at the rural sites, as watering and weeding must be meticulously maintained until the native plants reach one meter in height, said Montemayor.
"Over the four years, we have accumulated local knowledge that we use for our education and outreach activities. So we now have the full range of methods on how to propagate trees and shrubs, how to suppress invasive plants and noxious weeds," said Montemayor. "And we have our methods, a set of methods to do plant care, the trees and shrubs, which are, which is a set of activities that are designed for this climate here."
While the funding for the project may be over, the work continues. These restoration and conservation sites will continue to see care, said Montemayor, and SEAWA would "love to see more volunteers" to maintain the recovery of this important part of the southern Alberta ecosystem.
"The fieldwork is really hard. So you have to have, like, able bodied volunteers as physical labor. So not everybody is  willing to do that. But if they can come in a day or two that even that helps," said Montemayor.
In addition to their continued project, SEAWA continues to work on public education and outreach, and compile their knowledge so that others may be able to take on restoration projects of their own.
"Our other project that we just started and got a small amount of money, we are doing the source water area characterization for the drinking water of Medicine Hat and the town of Redcliff," said Montemayor. "So that source water area characterization will compile existing data on the risks, or hazards or potential contaminants to the South Saskatchewan River, Medicine Hat and when we talk about our drinking water supply, this is about water quantity, and water quality."
The project will look at both human-created risks and natural hazards generated for the water before it arrives in the municipalities.
"The South Saskatchewan River starts at Grassy Lake is the confluence of the Bow and the Old Man rivers. So these two rivers start from the mountains, the headwaters, and the Bow passes by Calgary and the Old Man passes by Lethbridge. And there's so many activities that are going on there, not just agriculture, but other industries," said Montemayor. "But more importantly, the wastewater discharge from millions of people. That's a project that will look into those human derived risks and hazards as well as natural factors. So that project started and the consultant will complete its report in mid November."