Dunmore teenagers make presentation to Cypress Council which was uplifting, hopefully for their bikes
Posted on May 26, 2022 by Ryan Dahlman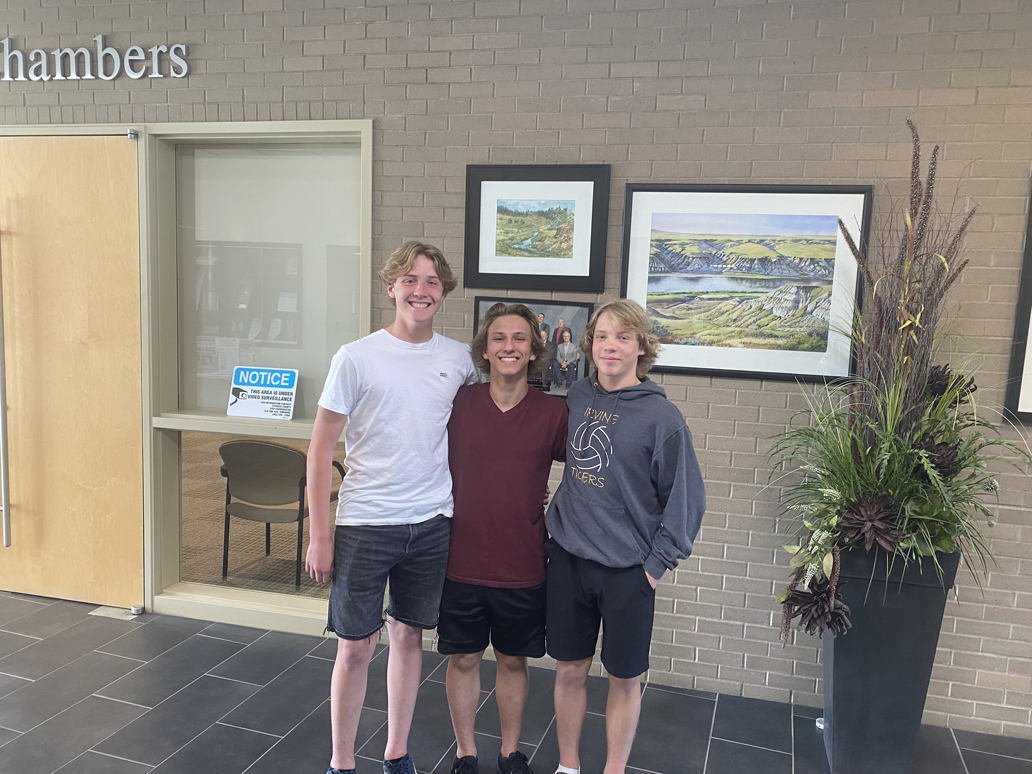 Presentors Evan Reiger, Brolan Vanderspruit, and Hudson Mastel pose for a portrait outside Cypress County Chambers. Photo by Anna Smith.
By Anna Smith
Commentator/Courier
The youth of Dunmore have high hopes for even loftier bike jumps, and they're eager to put in the work to help bring new recreation to the community.
On May 17th, three 14 year-olds brought a presentation in front of Cypress County Council, advocating for Council to allow them some space and dirt to build these jumps and a pump track, combining the two attractions in a single space.
"We have requested to build in a new area because where we were before got shut down due to land ownership changing for the future Okay, so this is like the location that we talked about with the Community Council. We don't know the exact location, but somewhere around the baseball diamond up there," said Hudson Mastel during the presentation. 
He, along with fellow presenters Evan Reiger and Brolan Vanderspruit, discussed the possibility of the space suggested, as well as building jumps out of wooden pallets and a promise to keep the site well kept and clean if permitted to create the track.
Council expressed concerns regarding safety as well as the insurance involved, as bike jumps and a pump track would require different insurance due to the different uses and levels of safety.
Councillor Robin Kurpjuweit suggested the possibility of building the multiple pieces of the project in stages, after hearing the presentation.
"I'm just wondering if when we look at land for this development that we have a big enough piece of land that we start off with a pumptrack and then down the road, have a phase two, phase three, because the skills development is probably more important than having big air," said Kurpjuweit. "Because if you're doing big air, you know that limits how many people. Okay, so, you know, you start off with the pump track, and hopefully you're being leaders by being here, but you can also be kind of an inspiration to some of the younger kids and then it kind of grows from there."
Similar facilities in the town of Redcliff were used as an example for potential development, and ultimately council directed to have information brought forward regarding engineering for the next meeting in June.
"It takes a lot of guts to come in and sit there. We've been on both sides of the counter so we understand, and we will look into it," said Reeve Dan Hamilton.