Cypress County Welcome Centre in Walsh ready for those going past Alberta/Sask. border
Posted on June 23, 2022 by 40 Mile Commentator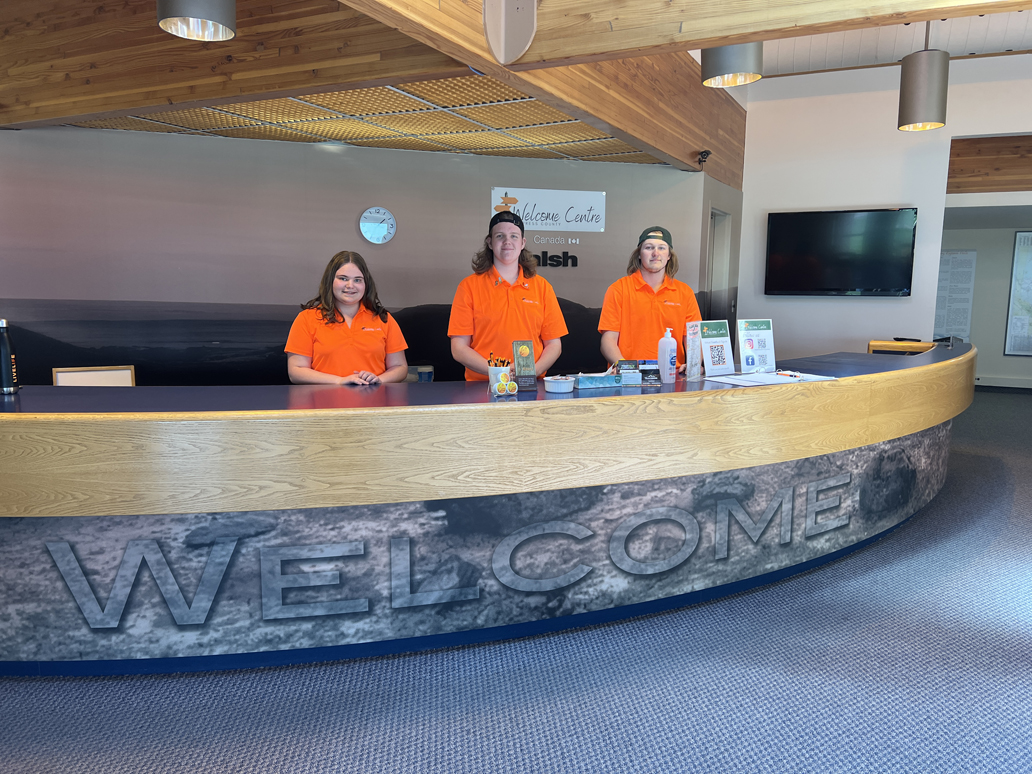 Cypress County Welcome Centre will have some friendly faces greeting visitors. Here Emily Haukeness, Easton Nugent and Brian Davies will be at the Walsh Centre this summer.
By Anna Smith
Commentator/Courier
One of the last stops before the Saskatchewan Border, the Cypress County Welcome Centre prepares for their summer season visitors.
This is the second year of Cypress County running the centre, which they began leasing from the provincial government when it was announced that they would no longer be operating it.
"The Welcome Centre is located in the hamlet of Walsh, which is just inside the Alberta boundary from Saskatchewan. Highway One has 25,000 vehicles per day on it," said Tarolyn Aaserud, CEO of Cypress County. "When the province ran it, it was very successful, having up to 20,000 visitors and 2019 was the last year the province ran it through a contracted party, but then in 2020 they decided not to operate it again.
The centre is excellent infrastructure for Cypress County and the region to share and educate people about the awesome places that are here to visit, and council thought that it was an excellent venue to showcase for Cypress county, said Aaserud.
Since the start of the season on May long Weekend, the centre has seen about 100 visitors a week, and Emily Haukeness, who is currently working there.
"In May we were open for two weeks, I think we had 206 guests. So right now, averaging probably about 100 people a week, we're hoping it'll pick up when school's out," said Haukeness. Haukeness is currently a student at Medicine Hat College, and enjoys meeting all kinds of new people every day as they stop by the centre on their way in or out of Alberta.
"We've had lots of people come through, we get to meet people from all over. Enjoying handing out brochures and maps, organizing, getting ready for the season," said Haukeness. "Right now we're trying to set up local artisans to come in. So we've been doing lots of emailing with local people in the county, trying to get some art out here to put on display. And then lots of just like waiting for people to come."
The facility is amazing, said Aaserud. People stop and stretch their legs and walk their dogs. It's beautiful grounds out there and people come in and get information, use the facilities. We also have a boutique.
Presently, the three centre employees are preparing for Cypress County Day on July 16th, which they're hoping to make truly special for visitors.
"We're hoping to have some food trucks out here, and we're going to have some fire trucks from different Hamlets in the county. And hopefully, a bouncy castle. We're going to try to get some artists out here to sell their stuff," said Haukeness. "And then we'll play some games. We have some yard games out for people to use, like stretch their legs when they're travelling by so have those out, too."
Even county residents can find refuge from the highway there, before they set out on their journey, or even just to find out more about their community and say hello.
"You're welcome to go out to the Welcome Center. Anytime. It is a beautiful little green oasis, and it has lots of room for your kids to run around. And there's lawn games, and it's just a cute little gem. And everyone is welcome," said Aaserud.