Doing the first solo flight means a lot for Eagle Butte student
Posted on July 14, 2022 by Ryan Dahlman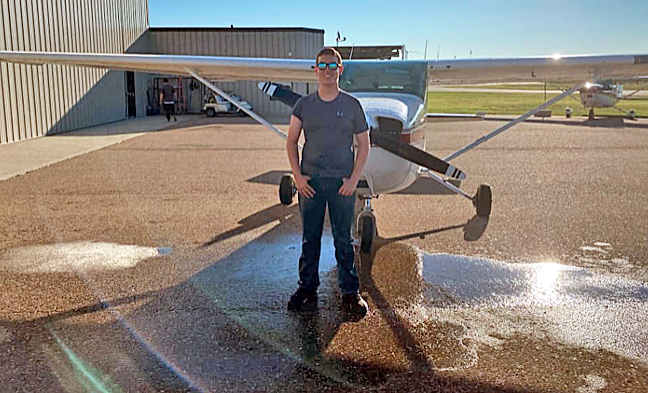 Trigger Ellis at his solo flight.
By Ryan Dahlman
According to his grandmother Marilyn Houff, when Trigger Ellis was at his kindergarten graduation at Seven Persons School, the students were supposed to dress up in what they wanted to be when they grew up. Apparently the younger of the two Ellis boys dressed as an airline pilot.
"Not sure if it was truly his idea. (Her daughter and his mom) Tanya thought he'd look cute in the hat. Of course it was a homemade outfit we fashioned together," she recalls.
It may not have been his idea then, but it sure is now.
Ellis, 17, now a student at Eagle Butte High School in Dunmore, who is entering his Grade 12 year is one of a number of students who are part of the Dave Rozdeba South Alberta Flight Academy at Super T Aviation.
It is a three-year high school program that allows students to work towards earning their private pilot's licence. It is a unique program which allows students to work towards a private pilot's licence which will all them to fly a single engine plane in the day time with many upgrades and also towards a commercial pilot licence. Super T Aviation is one of two affiliate flight schools of WestJet.
For now, Ellis says the past year was a fun challenge, with in-class lesson or ground school and then head out to the airport for their in-flight lessons They learn about what is going on with the weather. The first year students usually wind up the school year by flying for an hour in June-July.
This year it was more in-depth and he continued that learning. In total, Ellis said there were 11 in his class and close to 20 in the three classes combined.
"It was pretty much what I thought it would be but I didn't just realize how much content we have to cover aspart of our training," explains Ellis. "They do a really good job at teaching it. Yeah, they really it makes sure you know what we need to know before we really get into the core of (it)."
The Prairie Rose Public School and Super T Aviation entered an agreement in the late spring of 2019 and Ellis had enough time to decide to get into it.
His mom Tanya and father Tim encouraged him to take an opportunity and do something for his prowess in mathematics.
"I've never really been like, 'I want I want to be a pilot', I'm one of those guys who never really decided what I wanted to do. And then my parents told me about this program and they pushed me to do it. I agreed," explained Ellis. "And, you know, I've started flying and I'm sold. It's some something I want to do as a career. I've I've always found it fascinating, really cool technology.
"I wanted to do it right. It was a big bit of a cost. I was a bit worried about that. But after a while they told me to ignore the cost and I went for it."
By July 2021, Ellis was taking his first flight with an instructor. His parents watched proudly. Sadly, Tanya passed away in November 2021 after a long battle with cancer.
Fast forward to July 2 of this year and Ellis got his first solo in. There wasn't any time to panic or get nervous and for good reason.
"Okay, so for starters, they don't actually tell you when you're going on your solo to kind of point you in the direction, say for what is good for you and then you'll go solo on a flight. So the night before, I didn't know but then when I got there I was I was pretty convinced that I would be going solo, so the first thing we do is we go up with an instructor to make sure that you know we still are good to go and we're flying and nothing's wrong. Then we land. The instructor hops out of the plane, and then we just for the first solo the taxi and backtrack the runway, take off and just do only one circuit and then land. Actually, I wasn't as nervous as I thought I would be… They make sure we know what we're doing so there's no panic or if something does go wrong, we know how to deal with it."
He looks forward to flying commercially. Ellis noted there's several ways to do it, but the one that we is going to do and has the most information about is that after he gets private pilot's licence at the end of his grade 12 high school year, he will be going to the Super T Aviation exclusively to the FBI, commercial pilot's license, any upgrading/special training/ratings he needs like instrument rating, multi engine, night rating, etc. he can do that.
Besides the coveted pilot's licence in high school they learn about aircraft maintenance engineering, what it is like to be an air traffic controlled and about drones/robotics.
They are also in the midst of a one and a half year project building a plane. He calls it Ikea-style, put- together and they are having fun doing that, calling it "surreal." No word on how they decide on who gets the inaugural flight.
Hard to know when Ellis gets the opportunity to fly and put on a real pilot's uniform, a realize he has come full circle from that homemade outfit he wore to Seven Persons kindergarten grad.