Walsh hosting an exciting Celebrate Cypress County event
Posted on July 14, 2022 by 40 Mile Commentator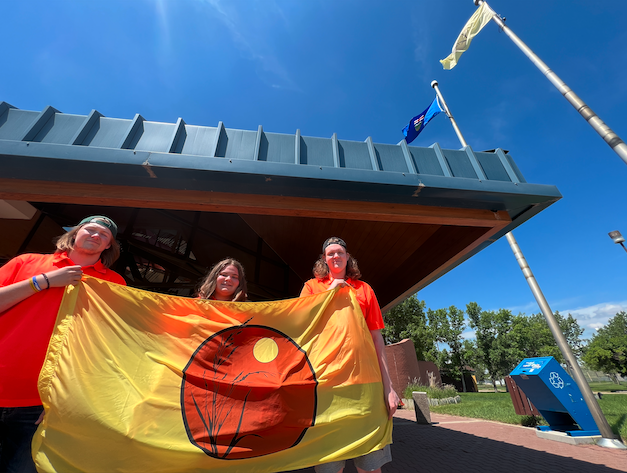 From left to right: Brian Davies, Emily Haukeness, and Easton Nugent hold the County flag outside the Visitor Centre in Walsh.
By Anna Smith
Commentator/Courier
Cypress is looking forward to showing residents just how much their county has to offer with their Celebrate Cypress County event.
It's only a short drive to Walsh for July 16th for the second Celebrate Cypress County event, hosted at the Visitor Centre. Last year, the event had taken place on June 26th, said Communications Assistant Sean Rooney, but this year they decided they didn't want to steal the thunder of Canada Day celebrations.
"They had food trucks, the HALO helicopter landed, games for the kids, that kind of stuff. So we just decided, let's make it sort of an annual event," said Rooney. "This year we are expanding it a little bit."
This year, they still have two food trucks, though Rooney noted they had to actually limit how many trucks could attend to make sure that those attending would hopefully make a reasonable amount of sales. The HALO helicopter is also going to make an appearance.
"We're gonna have some people there from BATUS," said Rooney. While he was unable to be specific, the British Army Training Unit Suffield has stated they intend to bring some vehicles to the event, as they will also be celebrating their 50th year of operation.
"We've got games for the kids, I got some temporary tattoos that we got coming out, giveaways for people with our people out there and I've been contacting local businesses and getting sort of a little goodie bags for prizes and stuff like that. Lots of fun stuff going on," said Rooney.
Marina Cole from Chainsaw Spirit will also be attending, as well as fire trucks from the County and various local artisans.
While Rooney didn't work for the county at the time, he adds that getting the event together has been fairly simple, with all of the contacts he and the students who work out at the visitor centre have.
"I shouldn't take too much credit like, like our staff out there, especially Emily Haukeness has done a great job of contacting businesses and getting stuff lined up," said Rooney. "There's so much stuff that's going on in the county that sometimes people in the county don't realize. And so, the idea of Celebrate Cypress County is just sort of, hey, like, look, what's in your own backyard, we've got a great group of people who live here, and contribute to the culture."
"You might not usually have a reason to drive out and visit the Welcome Centre in Walsh, but this weekend, this Saturday, the 16th, you do have a reason to, there are a lot of things going on there," said Rooney "Once you get there, you might find that there's other stuff going on the county, you didn't realize, because we got lots of brochures and information there for for anybody who's driving around, looking for something to do, in the county as well. So, a great learning opportunity for all."