Elkwater Fire Department hits the trails 
Posted on July 15, 2022 by Ryan Dahlman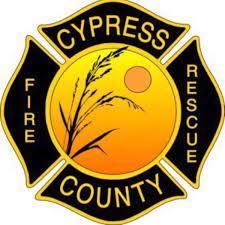 Cypress County Fire and Rescue
By Anna Smith
Commentator/Courier
Those looking to hit the trails this summer can be reassured that Elkwater Fire, in an emergency, will know exactly where they're going. 
Elkwater fire, alongside conversation officers and Alberta Parks doing an orientation of the various new trails in the region.
"We spent about three hours going around the trails, a lot of them on the ski hill," said Keith Fisher, Deputy Fire Chief in Elkwater. Due to the sheer number of new trails, Fisher said that they wanted to know what the safest and quickest way to various areas would be.
"We wanted to find out where we can take our Polaris Ranger side by side. Okay, so when we get called up there, we found some new access points, because some of the trails are too narrow for us to go down," said Fisher. "So we wanted to know, where can we go? Where can we not go on the trails that we can't access? Where can we get close? So on our ranger, we've got a stretcher that fits onto a wheel, so we can wheel it down the trail."
Fisher noted that sometimes they get calls from people near the hill, where they need to go out, turn their motor off, then call out while they search for someone, and that as more and more people head outdoors for the summer, the department is answering more calls.
"It's getting more frequent, because there's more and more people out there every year. Word has gone around that those trails are better than Kananaskis. Better than Calgary, better than they say anywhere else," said Fisher. "So there's more and more people coming all the time. Plus, with E-bikes, there's more and more people out there with E-bikes. Some of them shouldn't be. And then the trails now are marked. They're colour-coded, just like downhill ski trails."
The trails are based on difficulties, such as steep hills, loops, even jumps, and Fisher advocates for people to exercise caution while choosing their trails as people have been getting in trouble. 
The trails will be reviewed at least once a year, if not more often, said Fisher, to keep firefighters safe and as efficient as possible.
"Our biggest thing is, you know, we want to be proactive, not reactive, and we want to pre-plan, we want to train to ensure that, when someone does have a bad day that you know, we get it right and we do it safely," said Jason Linton, Emergency Services Coordinator at Cypress County. "It's not just for us, but for the patient, or the recreational bikers that are out there."