Healing Grounds utilizes nature to help
Posted on July 16, 2022 by 40 Mile Commentator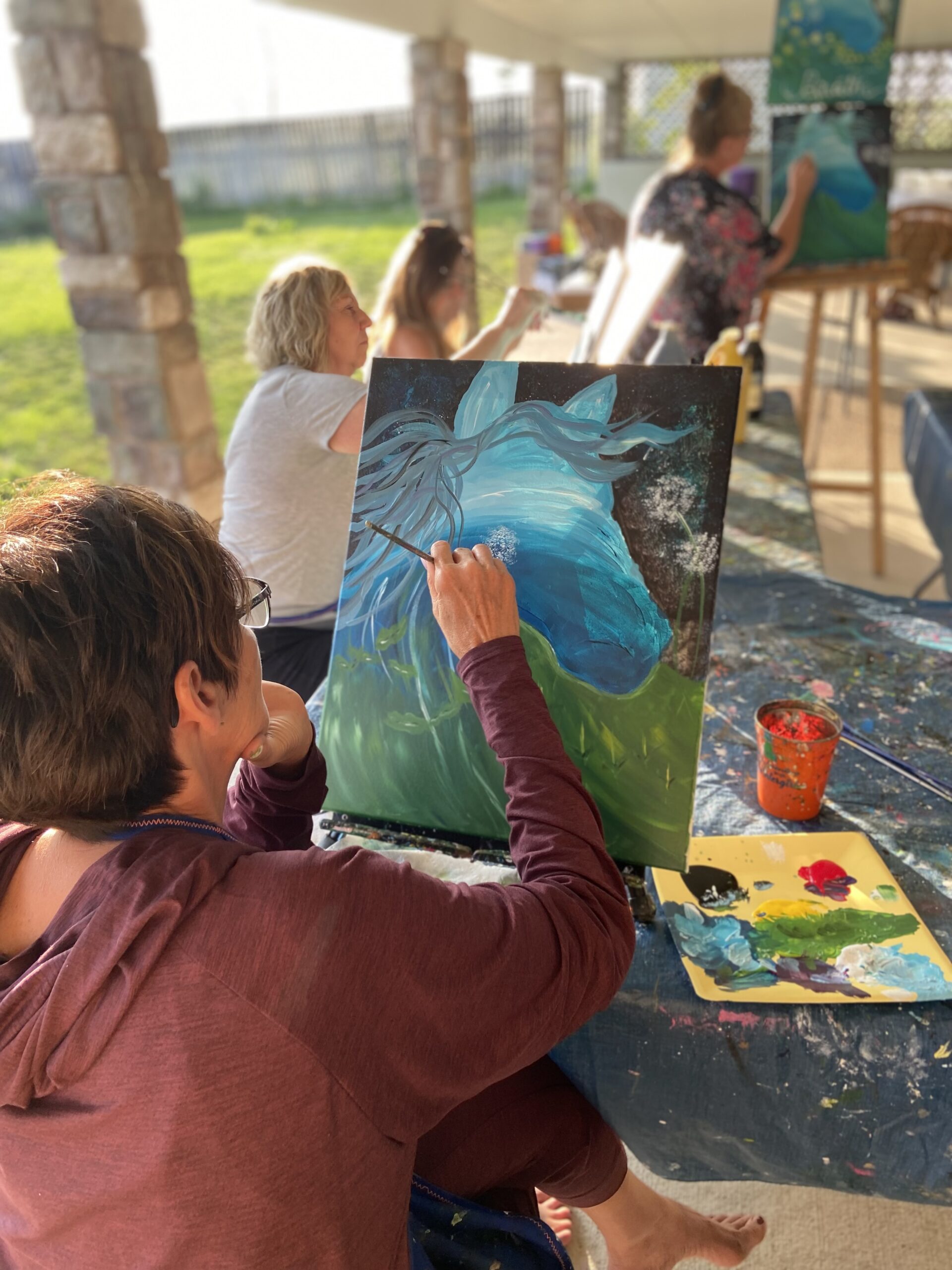 Horses are very therapeutic and as part of a recent session with Painter Girl, participants painted pictures of horses.
By Anna Smith
Commentator/Courier
Keys to Hope Counselling is eager to offer some new and exciting alternative healing experiences, starting with the Healing Grounds. Healing Grounds is located off of Box Springs Road NW on 13528 Range Road 63 about 11 km North of Costco Wholesale.
The Healing Grounds Experience, hosted on June 30th, was the first in a series of alternative group events, said counsellor Melisha Franks.
"What we really wanted was to sort of bring in the themes of what we're wanting to do out at the healing grounds and provide it in one experience for the public to come and join," said Franks.
Painter Girl Christy Vince was in attendance to lead participants in a group painting as a part of the experience.
"Individuals came in and they experienced a mindful movement class, we really got to sort of get grounded experiencing the outdoors, this was all done outside," said Franks. "And then the Painter Girl did a picture of a horse and dandelions, which is sort of what our theme is, and helped everyone to tap into the creative part of who they are. And then we ended it with a sound bath at sunset, and just allowed people to just be in community with each other."
All of these components will be continually offered in the future, said Franks, who added that they considered the event a huge success based on the energy present and the feedback received from those who attended.
"At Keys to Hope we really recognize that, you know, talk therapy, in a traditional office space isn't always what people are looking for, what people are needing," said Franks. "And that, over and above that, connecting with nature, and connecting through creativity and other alternative healing modalities is something that is really, really necessary. It's not a one-size-fits-all experience."
Franks added that they wanted to introduce their space in an intimate fashion with a small group of people, and allow for the community to get to know firsthand what services they're offering.
Keys to Hope is excited to continue to offer these alternative experiences as well as expand what they're capable of, said Franks, mentioning a psychologist from Edmonton coming in August to work with them on some intensive animal assisted training.
"We have really big plans on what we hope, you know, to develop over the next couple of years at the healing ground. Right now we're starting with more of these smaller, intimate experiences," said Franks. "This is always the goal, when Deena West and I joined forces in 2016. We're at the raw stages still. So we're, you know, running the groups outside and in the basement, which is a beautiful walkout basement of the house that's fully decorated with our theme. And again, like I said, we're really hopeful in the next few years to be able to have, you know, more wellness retreats, like the one we have planned for the fall. And hopefully, to have maybe some sort of bigger centre, indoor arenas, those sorts of things."