Irvine woman creates artistic spirits using chainsaw
Posted on July 16, 2022 by Ryan Dahlman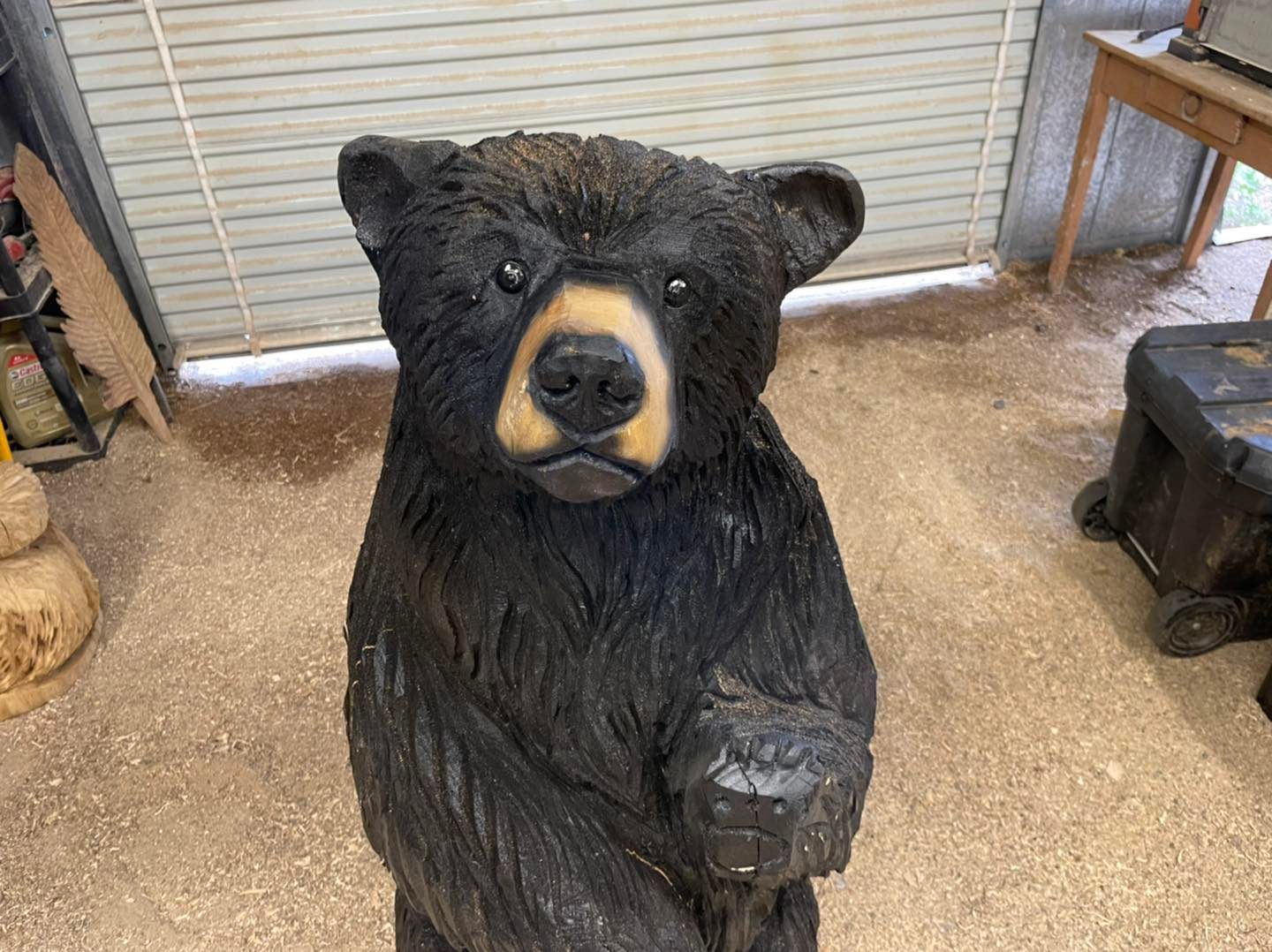 Chainsaw Spirit Bear
By Anna Smith
Commentator/Courier
It takes a certain level of skill to work with a paintbrush that can kill you, but that's exactly what Irvine's own Marina Cole does.
Cole was born and raised in Irvine, and while she moved into Medicine Hat for a short time for work, Irvine has remained her home, and she returned to where she was raised and where she met her husband to stay and raise her kids. 
Cole muses that she prefers smaller centres, as they just have a different sense of character.
It was at a taekwondo event for her children where Cole first felt the pull to work with wood.
"It really was a complete fluke," said Cole. "I saw a sculpture, a wood sculpture, when I was at a taekwondo event with my kids. And I literally fell in love. It  invoked something in me that was like 'you need to work with wood.' And it was just such a just kept on ruminating about it constantly. And I'm like, 'This is what I have to do, this is what I have to do.' So I don't know. Apparently sculptures talk to me."
While Cole started her work with chisels, she found that it was difficult for her to maintain motivation when the sculpture revealed itself so slowly. The alternative however, said Cole, was terrifying.
"I just knew that the chainsaw was gonna be quicker. But then I was so scared of everything at that time in my life. And I had young kids and, you know, worried about just not hurting myself. And the chainsaw seemed like such a far out idea," said Cole. " I went on YouTube, and I watched every single terrible video that I could ever watch about what happens when you're using a chainsaw. It terrified me. I remember I think it was like five o'clock in the morning. I watched his videos too, until it was like, 'Oh my gosh, I can't do this.' But we ran into a fellow at the Edmonton Boat and Sportsman show, and he's the one that taught me how to use a chainsaw safely."
Cole described the feeling of working with the chainsaw as "euphoric" once she was able to get over her fears and use it to create her art, and hasn't looked back since, as she continues to refine her skills.
"I don't think you ever really stopped learning about the saws themselves and the right way to sharpen and how far to take your Guides down and just you know, taking care of the saws this is all you're always learning you're constantly learning about the equipment itself, and then when it comes to other pieces, you start making your own tools for your sanding and all that kind of stuff," said Cole.
Cole works both on commissioned sculptures as well as her own work for competitions, and struggles to find a favourite between the two. While she loves to bring the vision of everyone she works with to light, she also enjoys being able to let loose and make whatever she sees in the log when she looks at it, which can take a while, as she notes that circling the wood while staring at it is a part of her process.
"There's a lot of different aspects to starting with a log. You know, which way the grain is going, if we're checking is going to happen. You figure that out first. I don't really use a projector or draw anything up or anything like that. I just kind of walk around and try to place it there in my mind," said Cole.
While Cole does all kinds of sculpture, she says that her favourites are often human forms, due to the inherent variety of shapes and aesthetics that can be captured within the umbrella of a sculpture of a human.
"Creating your own characters is so much fun. Like I had done a mushroom lady in Australia and to be able to kind of give her like the mushroom cap and, and do her gown or those little fairy creatures sticking out of it and stuff, it was fun creating your own human form," said Cole. "Yeah, you can get so much out of a human form or faces or even just the way your hand kind of moves, you can kind of get like an elegance from it, or you can get like a harshness from it. So I feel like you can get so much more emotion off of the human form."