Artist inspired by agriculture, family and prairie life
Posted on July 27, 2022 by Ryan Dahlman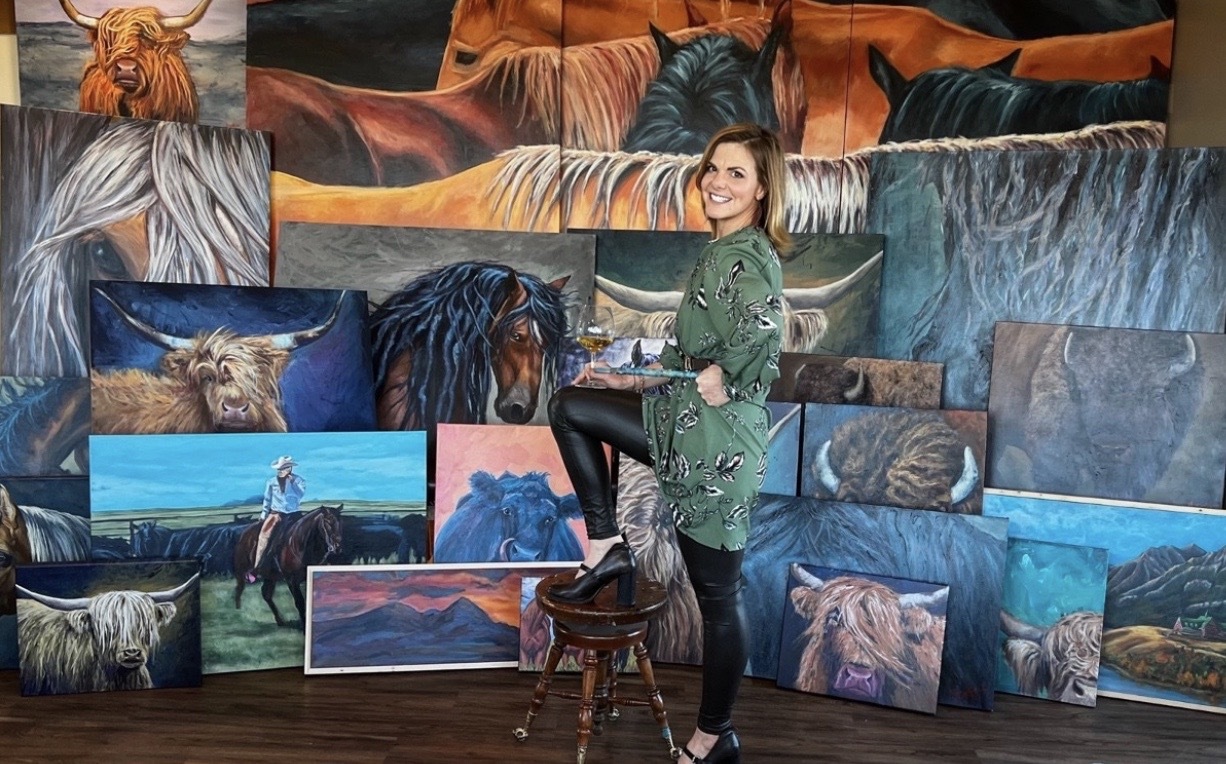 Artist Megan Weir poses for a picture, surrounded by her work. Submitted photo
By Anna Smith
Artist and 6th generation rancher Megan Weir believes two things; that anyone can make it as an artist, and that she's at her happiest when she's out under the open sky.
This year marks 125 years in business with their families' cattle operation, East and West Ranching, something that Weir takes great pride in. She has a deep love of the art of tending their herd, as well as figuring out what genetics and animals work best for the ranch.
"I love it. It's in my blood. And I just love working with horses and cows and the connection you feel to the land," said Weir. "I love raising my kids on a ranch. I haven't really ever known anything different. I mean, I lived in the city for like, a couple months just for school and I can't stand town."
There was a brief time where Weir thought she might want to pursue becoming a substitute teacher, but her talents and her heart called her back home to ranching, where she's stayed since and has begun her favourite chapter of her life, raising her three children near Manyberries.
"I have three kids and my husband. And just working with animals, I think it just brings me a lot of peace. And I've recently discovered that I'm an artist," said Weir.
Her journey began when out for a paint night with her friends, where the act of putting a brush to canvas "lit a fire." Since then, she's known it was something she was meant to do, and has been developing her own techniques and style as a self-taught artist for the past 5 years, including a switch from acrylics to oil paints, which she loves.
"It was like a spark that happened. And then I felt like I'd done it my whole life. And then I just bought paint and learned how to paint on my own," said Weir. "It's a lot of feeling, like a lot of emotion. And I draw my inspiration from what I do. So what I do ranch wise, and with my family creates a sense of joy and passion. And I translated it onto the canvas, and it's like a cycle."
Weir usually starts her day with her art, before her children wake up and often well before the sun and the rest of the world, as well.
"I used to say that I don't have time to paint, because I'm busy doing other things. But then I decided I needed to make time and make it a priority to do it every day," said Weir. "So I get up, typically, between the hours of three and four am. So that I could get it in before my kids wake up. And it creates consistency. And I just do bit by bit where I can build on it. And then I can insert business aspects of it, learning to market, learning how to where I need to improve and it's been fun, because it's been a growth curve, like it's been learning who my audience is, what resonates, but still being true to myself."
Authenticity is a big part of Weir and her art, and that flows into her marketing and digital presence as well. It's something she considers central to who she is, and she refuses to compromise that for the sake of selling more pieces.
"I've been doing social media with my stories, and then it's early in the morning. And I usually look very tired and awful, dishevelled, and I don't care. So my big thing is authenticity," said Weir. "And I just don't know how to do anything but be myself. So that's been kind of something where I think you can get lost in trying to build your business or whatever, and you lose yourself. And so my thing is always just be like, be yourself and learn from there."
Most of her work starts as photographs, be it of animals or particularly striking locales, that either she or her loved ones take for her, and she has a definite soft spot for her depictions of Highland Cattle, which she's studied so often she says she no longer really needs much of a reference.
"It'll speak to me, and I'll paint it. Of course, then other times, somebody wants me to paint it because it's a commission piece," said Weir. "As far as favourites, I love the cattle, Highland cows. Fun because the hair is so interesting, and you can create such a feel with their hair, and lots of colour. And I love painting horses, but my favourite thing I think, when I do paintings, is the background. Because the background is usually kind of abstract, and I throw paint at it and I get to play. And then when it gets time to the subject matter, I have to focus."
Fun lies at the heart of all of Weir's art, from throwing paint and dancing, to getting the feedback of her family.
"My husband's my favourite critic, because he, if something's off he'll tell me in a way that's honest, but it's like, it's not mean. And I value his opinion over everybody's because he'll say, Oh, that's awesome, babe. Or he'll be like, that's really good. And then we'll sit and we'll analyze it and he's good with what something's worth. My kids are brutally honest," said Weir. "They're like, 'I hate that. Mom, that's terrible.' And sometimes they love paintings that I can't stand but they're they don't even care. They don't spare my feelings. My son is kinder to me about it. He always thinks that I do no wrong, but like girls are like, what is that?"
Weir feels that everyone is an artist when they're young, it's just outside pressures that convince people to give it up as they get older; and that they have an obligation to find a creative outlet that speaks to them again.
"We all have something in us. That is it lights a fire. And I think it is our duty to pay attention to that. And to go all in and to keep the fire burning," said Weir. "Instead of putting it out thinking that you have to do something els, that it's not gonna work like you can't make it, you can't make a living selling art directly. You can't make it as an artist, like I think you have, or somebody started opening a business or if they want to be a singer or whatever, it's too hard. And I think you have to. You have an obligation to at least try."