People's Choice for Children in Visual Arts to Irvine School student
Posted on August 10, 2022 by Ryan Dahlman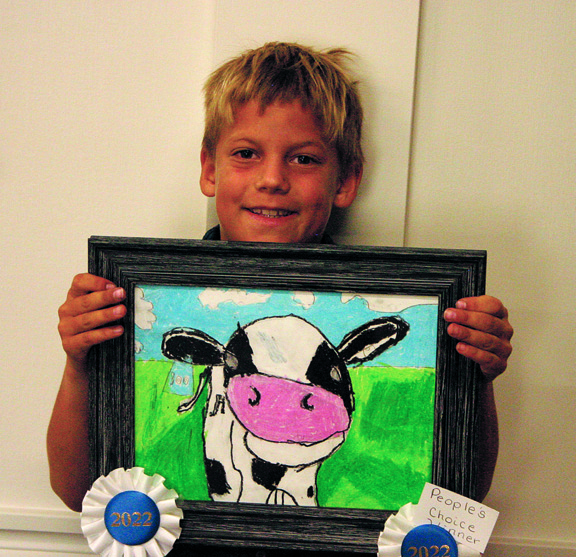 Alec Hargrave and his work.
By Samantha Johnson
Eight-year-old Alec Hargrave took home the People's Choice Award for the Children's Visual Arts show. It wasn't the first ribbon the entry took home, getting second place in the Grade 1-3 category, where the judges' comments were, "You gave the cow personality!" 
Although excited about his win, the Irvine School student was a little shy at first when it came to being interviewed. 
"I made it one day when we were doing art," explained Hargrave about making his picture, "but there was no art project, so my helper teacher, Mrs. Grimm, she drew a cow, and we followed the steps and coloured it with oil pastels. I put the brand and tag on it." 
Alec helps with the brandings at home and has done various jobs, such as castration and vaccination. 
"I also did the tip-table brandings. The calf goes on the tip-table, you tip it over, they open a special thing and put a tiny brand on. It's electric, not the one where you heat it up by fire." 
He likes the ranching life and rides horses. 
"For my little sisters, we made a step where they just step up instead of putting their foot in the stirrup, but I can do it," said Hargrave. 
This past week was a busy one for Hargrave, other than coming into Medicine Hat to attend the award's ceremony on Monday night and back again on Saturday to collect the People's Choice award, he was helping the hired man do the baling at home. 
"I know how to swath, bale and rake right now," stated Hargrave. "When you swath, you cut it down into a row. The rake takes two rows and puts it into one big one. Then you take the baler, and it picks up the hay. When it beeps, you stop, let it wrap, it will beep again, and you open the gate, and the bale is made. They are heavy because so much hay is packed into it." 
Despite his wins, Hargraves favourite subject at Irvine School is gym rather than art. Getting the cheque at the awards ceremony was good, but he liked it even more that his art was chosen for the People's Choice Award.