Medicine Hat Women's Shelter Society receives needed support via golf tournament
Posted on September 7, 2022 by Ryan Dahlman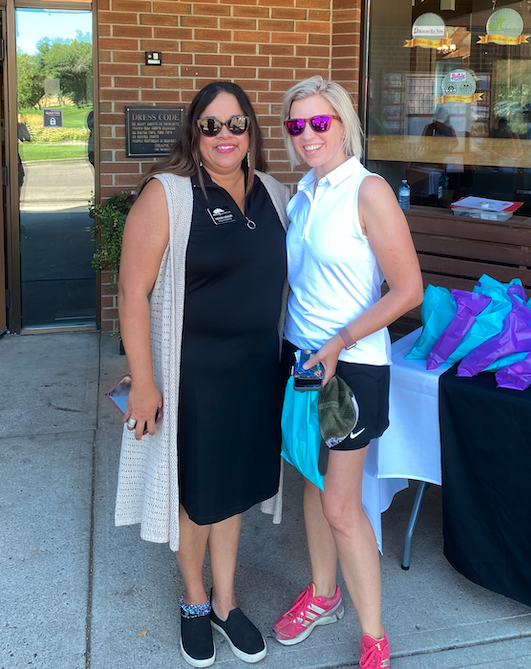 Natasha Carvalho and Tara Williams pose for a portrait outside the Medicine Hat Golf and Country club during lunch for the MHWSS Charity Golf Tournament.
By Anna Smith
Commentator/Courier
The Medicine Hat Women's Shelter Society celebrated two decades and over half a million dollars raised during their 20th annual Scotiabank Golf Tournament.
For this 20th year, MHWSS is proud to announce a partnership through Shaw Birdies for Kids which means every dollar that was raised through the golf tournament will be eligible to be matched up to 50%. "We've had this partnership with Scotiabank for around 20 years now. So it's pretty amazing," said Natasha Carvalho, Executive Director.
"We've raised over a half a million dollars, and all those years have gone to very many programs and services that we have at the shelter. And yeah, it's just been amazing. And it's really great. The community comes out of the year to support us, and we have lots of it's a great day on the greens."
The weather day on August 31st was absolutely perfect, said Carvalho, with not a cloud in the sky and the late summer heat ideal for a day out at the Medicine Hat Golf and Country Club.
"Everyone has a full day out there. They get lunch and supper and there's lots of drinks and fun things on the greens. And we have a live and silent auction after a bit of a program," said Carvalho. This year's funds are earmarked for the Summer Adventure Fun Educational (SAFE) program, a summer camp program, which aims to provide a feeling of normalcy and fun to the summers of children and youth who have experienced family violence, and whose families are connected to MHWSS services, said Carvalho.
"We run a day camp every year for the kids who are involved in our various programs, a lot of those kids don't get a chance to have a regular kind of summer," said Carvalho. "And so this gives them a chance to do some fun things coupled with doing some education and stuff about family violence."
Carvalho is also looking forward to being able to host their annual gala this year, which has been unable to go forward in the last few years due to public health measures.
"That's usually a big fundraiser. But things like this really definitely help and keep the doors open. And he was able to feel like we can keep delivering programs," said Carvalho. "We got to be pretty creative over the years we're trying to figure out, especially during COVID."
"It's been really nice. Just nice to see everybody out again, and faces and smiles. Just everybody coming together," said Carvalho. "And we just really appreciate people coming out. I know people are busy. And sometimes things are tight. So people spending the money and coming out to support us, we really appreciate that."