Cypress County administrators receive awards of distinction
Posted on November 25, 2022 by Ryan Dahlman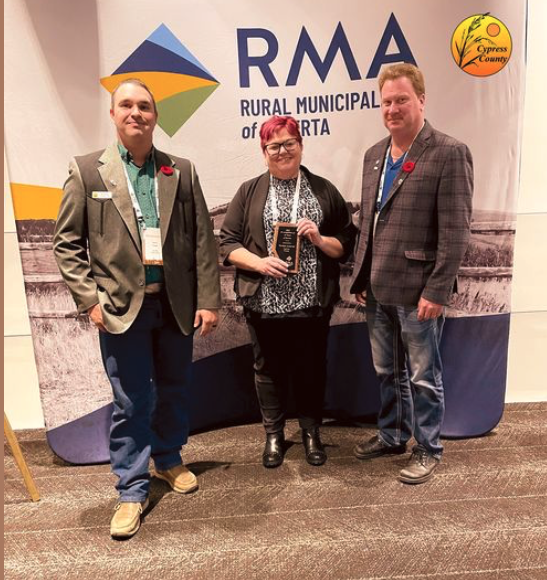 Photo Cypress County Facebook screenshot Councillor Dustin Vossler (nine years) (left), CAO Tarolyn Aaserud (25 years), and Reeve Hamilton (nine years). Councillor Richard Oster (nine years)
Cypress County administrators receive awards of distinction
By Anna Smith
Commentator-Courier
Cypress County council hit the road to attend the Rural Municipalities of Alberta Fall convention.
While in attendance, Reeve Dan Hamilton, Deputy Reeve Richard Oster, and Councillor Dustin Vossler all received their nine-year service awards. County CAO Tarolyn Aaserudalso received her long service award for 25 years.
"It feels like it's gone by way too fast," said Aaserud.
The RMA convention is a massive event. Aaserud's estimated with roughly 600 delegates in attendance.
"There's a trade show there as well. So there's hundreds of vendors there  and consultants who work with municipalities.  We spent an afternoon going through there and connecting, and networking and looking at other options for service delivery. So that was super-cool," said Aaserud.
The keynote address was given by General Rick Hillier, who Aaserud noted was an "amazing speaker, and very much a proud Canadian. He has served this country over and over and he shares messages of other, you know, heroes and patriots for this country."
A presentation of particular note was in regards to nurse practitioners and their potential to help address the shortage of primary health care in rural Alberta.
"It was very interesting. They're highly-trained and very much see a fit for them in how to deliver health services in this province," said Aaserud. "Then, of course, we have a ministerial forum. So the ministers come and so there's two afternoons that the ministers are there. There's usually about 10 one day and 12 the next day, and the delegates that are elected officials that come to the conference have the ability to ask the ministers questions," said Aasurd. "It's an excellent way to to actually share because there's concerns in Grand Prairie might not be the same that's in Red Deer, Provost or Medicine Hat and Cypress, so it was very informative and very appreciated."
Both official opposition leader Rachel Notley and Premier Danielle Smith gave addresses sharing their thoughts and plans for the future.
Cypress councillors spent a total of four days sharing their concerns and networking with other municipalities, as well as putting together resolutions with the other municipalities to help identify what changes need to be advocated.
"A resolution identifies a concern and it proposes the concern. If the General Assembly approves this resolution, which is really a motion, then the Rural Municipalities Association will take it to the appropriate level of government or maybe it's a non-governmental agency, and go and advocate for rural Alberta," said Aaserud.
Some of the resolutions included volunteer firefighters as medical responders, all the way to increased resources for commercial drivers, spanning a broad spectrum of what is most important to rural Alberta now.
"It was a well-organized conference. Kept us busy," said Aaserud. "But it's nice to come back home."