HALO executive grateful for phenomenal 2022; look forward to 2023
Posted on January 2, 2023 by Ryan Dahlman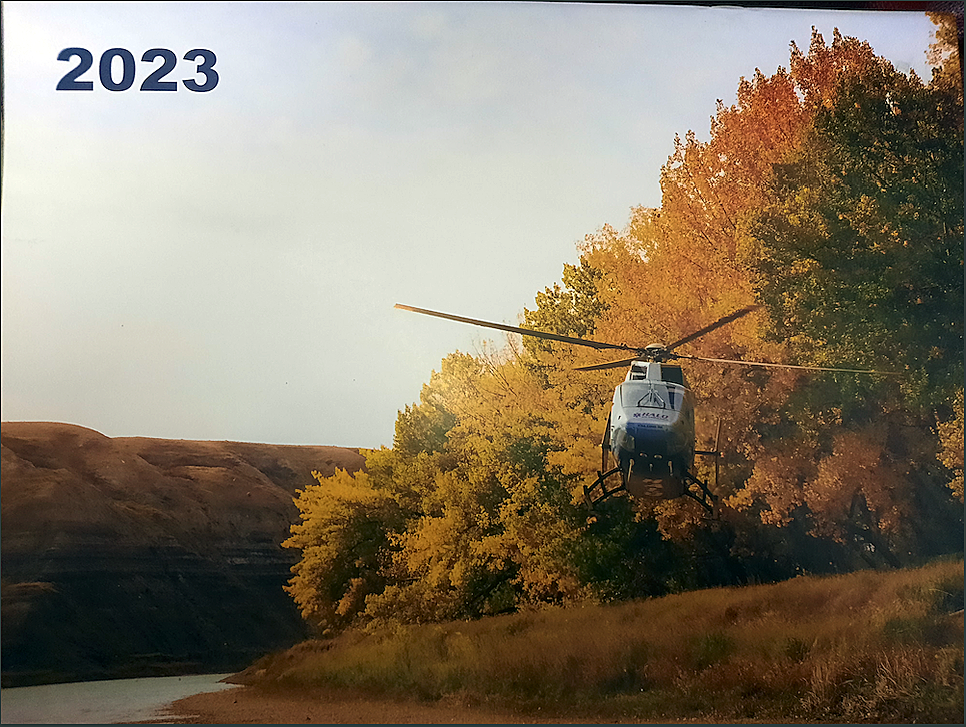 HALO 2023 Calendar
By Anna Smith
Commentator/Courier
It's been an eventful 12 months for HALO air ambulance, and with steady sales on their 2023 calendar, the folks behind the beloved emergency service are already looking forward to the new year.
2022 was a phenomenal year said CEO Paul Carolan, with the chance to resume some of their more traditional, in-person fundraising opportunities.
"It allowed us to plan some pretty cool things and get back in front of people, which was always such a big part of our program and something we missed dearly during the pandemic," said Carolan. "So we are very excited about that, and to have a full year under our belts again, after a long break."
HALO learned a lot during the pandemic, and certainly accelerated some plans to provide a bit more of a diversified funding stream that allowed them to fundraise in that environment, but they always looked forward to and wanted to get back to in-person events, which are a big part of the organization's culture, said Carolan.
"The event part of this year was fantastic; we had a couple of dinners, a brand new Gala, our golf tournament. Then, just keeping those other things that we learned during the pandemic in front of mind and continuing to build their success and making sure that they continue to fund part of the program," said Carolan. 
"Obviously, we had a big announcement early in the year from the Government of Alberta, that we would be eligible for up to 50% funding," said Carolan. "I think while that's incredible and certainly long overdue, one of our biggest jobs is making sure that people understand that — that's 50%. We still have to raise the other 50% so we can't take our foot off the gas; we have an important program to make sure that we keep funded, and make sure that we're available to stay 'in flight for your life.'"
While the program has always run on a tight budget, the funding does allow for a little more consistency, and will allow for their usual fundraising to potentially cater to some growth.
"We just want to make sure that we're doing everything we can to take advantage of every dollar we receive, whether that's from a family or a business, local rancher, a regional government or from the provincial government, we want to make sure that we take advantage of every dollar as much as possible and provide the best and most comprehensive service we can provide," said Carolan.
This year's calendar sales are going well, with about 65% of them sold at the time of interview, and a projection of being sold or nearly sold out soon which is a high note to end the year's fundraising on.
"The calendar has been really well received. For 25 bucks, we provide winning all year long in 2023," said Carolan. "It's a great value, you get a calendar that represents a program that people are proud of and then also you get a chance to win. It's kind of a win-win thing there, so I would expect that we would get all the way to if not really darn close to total sell out this year, so that's exciting. That'll be our last major fundraiser for 2022."
This coming year, HALO is looking forward to continuing to provide the best service possible.
"We've worked hard to finalize the agreement with Alberta Health Services, we're very close to finishing the short-term agreement. Fundamentally, a big goal for us is to execute the balance of those agreements and make sure that we're getting the very best private service funding that we can get from them, so that'll be sort of the key focus. Then, continue on with that return to events," said Carolan. "We'll just continue to build the program out and make sure that it's going to be here for years to come."