Cypress County will feature building and growth in 2023
Posted on January 10, 2023 by Ryan Dahlman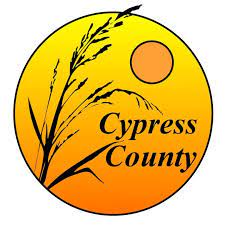 By Anna Smith
Commentator/Courier
It's been a long year, but the future looks bright for Reeve Dan Hamilton and the team at Cypress County.
Hamilton explained 2023 will feature the start of a series of some larger and prominent projects including a new library for Irvine.
"It has been a while coming, and it's finally all come together. There's quite a few people trying to get that put through so it's good that it's moving forward. I think it's going to be vital to the revitalization of Irvine. That's gonna help the hamlet," said Hamilton. "It's needed and the old one, let's face it, it was rundown. It did what it needed to do and served the community a long time, but it's time for a new one."
Other major projects include new multi-purpose buildings in Irvine and Seven Persons, as well as development of Dunmore Junction, which Hamilton notes has already seen some interest.
"Dunmore Junction — that's huge," said Hamilton. "And it's going to be a fantastic thing for the County to get back on and get Third Street all connected to (Highway) 120, so that we can take some pressure off those lights there."
The hope with the connection is to get some of the larger trucks away from where students will be coming out from Eagle Butte road, as well, making it safer for young drivers who are just starting out.
"If you're there around 3 or 3:30 p.m. It's just crazy with young drivers, so we're worried about safety there. You can't take young drivers off the road. They have got to learn somehow, so you just got to try and protect them the best you can," added Hamilton.
These are only initially what's planned this year as the County is "always open for business," said Hamilton, and has a analytical and creative group ready to take on whatever these next 12 months have in store, including the upcoming provincial election. 
The County's hope is whoever leads the Province is ready to work with them to help their residents.
"We're always trying to be proactive and look into the future. So whatever comes our way, we're interested in looking at doing to the best of our ability," said Hamilton. "We have a fantastic council. The new ones that came on, are sliding right in and they've learned the responsibilities well. They've added great input for the Council, and it's just (going) really well."
"Our office is also wonderful. Great from our CAO right down to the guys removing snow for us. Everybody just seems to work together as a team and it's fantastic," said Hamilton. "We have a really good team. They try to do the best they can for all of Cypress County from Council right down to the staff. They're all trying their best and putting their best foot forward. I can't stress that enough."