Agriculture and rodeo community rallies around Consul teenage cowboy
Posted on January 13, 2023 by Ryan Dahlman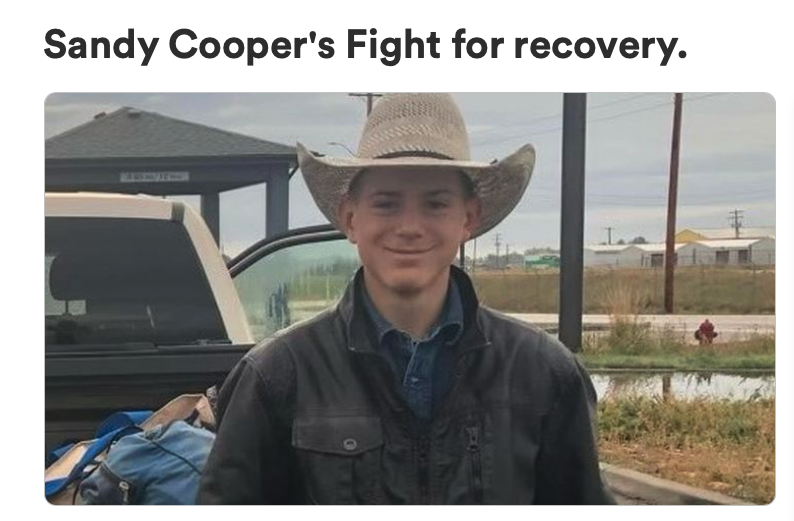 By Ryan Dahlman
Commentator/Courier 
It is well known that those in the rodeo and agriculture communities look after their own and in the tragic case of Sandy Cooper-Black, the area is doing just that. 
Cooper-Black, 16, suffered a broken neck and damaged spinal cord after being bucked off a horse at a rodeo event in Brooks in late December. According to media reports and as of press time, he cannot move his arms or legs as he recovers at the spinal recovery wing of the Calgary Foothills Hospital. 
There will be a lot of related costs in the future. 
A GoFundMe account has been set up https://www.gofundme.com/f/sandy-coopers-fight-for-recovery?qid=fb730d36f4e5657b9d99f5ed25d1d033 which had raised over $98,000 with 835 donations as of 11 a.m. (MST) Jan. 13.
If one wants to go the e-transfer route, please make donations to a trust account for Sandy and his family at sandycooperfundraiser@gmail.com 
Many have come to Cooper's aid in wanting to do something. A close friend of the family and renowned country music star Colter Wall is donating digital and actual physical recordings of the album Western Swing & Waltzes and Other Punchy Songs to the Cooper effort. Wall plans on making up shorts and other merchandise See video at (https://holler.country/news/breaking/colter-wall-donates-all-proceeds-from-western-swing-and-waltzes-to-hospitalised-friend). 
"He is 16 going on 75, he's kind of an old soul," Wall says in the video. "He's everybody's best buddy around here…I want to raise some money for this kid. He's like a brother to me, like my little brother." 
Manyberries artist Megan Weir is also helping in the fundraising efforts. Weir is donating 100% of the profits from her gorgeous 30"x40" "Hair In My Eye" original acrylic painting from her popular highland cattle series. She is also donating proceeds from any other of the highland cattle series.
Weir also created a digital drawing of the young cowboy. On the website one can put the digital print on anything from clothes to pillow throws, ornaments, telephone cases and mugs. Weir indicated that all the proceeds from https://www.meganweir.com/sandy-cooper
She just wants to be part of the quickly expanding effort in helping a very popular and beloved young man. 
"It is not surprising at all: the agriculture, ranching and rodeo communities are very close; the roots run very deep," Weir said in a telephone interview. "It hits close to home. Everyone cares about him; everyone wants to show how much they care."