ALERT makes arrest in Cypress County: stolen property and firearms offences
Posted on January 26, 2023 by Ryan Dahlman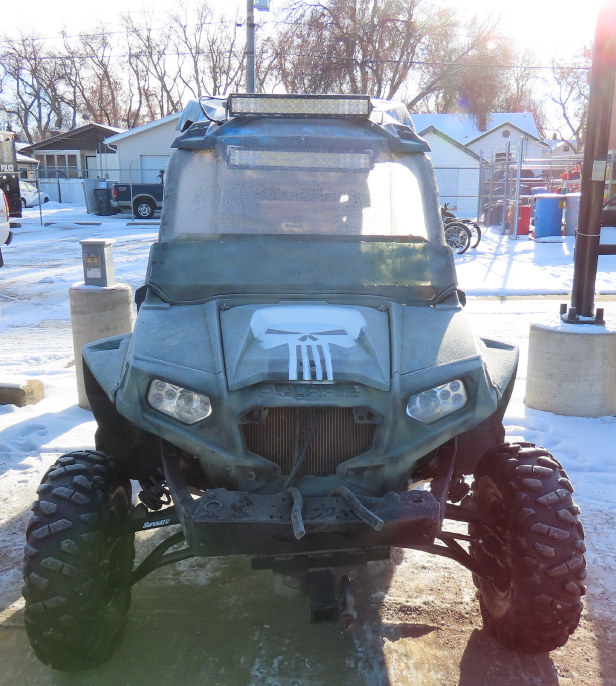 One of the items recovered.
Contributed
Various firearms and weapons have been seized from a home in Cypress County following an investigation into stolen property by ALERT Medicine Hat's regional property crime unit.
In December 2022, ALERT began investigating a report of a stolen recreational vehicle and trailer. The theft occurred in the Redcliff area and ALERT worked with the Medicine Hat Police Service and Redcliff RCMP.
The stolen recreational vehicle, worth approximately $27,000, was later located on a property in Cypress County. A search warrant was executed on the property on January 4, 2023, and the following items were seized:
• 2013 Polaris RZR 900;
• Two crossbows;
• Six rifles;
• Three shotguns; and
• Various rounds of ammunition.
One of the firearms had its serial number defaced. ALERT is conducting a follow-up investigation to determine how they were acquired.
"These weapons had all been left in plain sight, stored carelessly throughout the garage. Some of the guns our officers seized were also found loaded, which could have been a very dangerous situation if they had ended up in the wrong hands," said Acting S/Sgt. David Gornisiewicz, ALERT Medicine Hat.
The suspect is bound by two firearms prohibition, including a lifetime ban on possession of a firearm, crossbow, restricted weapons, ammunition or explosive substances.
Denver Ailsby, 44-years old of Cypress County, was at his home on the property at the time and was taken into custody without incident. He is facing a total of 61 charges, including:
• Possession of stolen property over $5,000;
• Possess firearm alter / deface serial number;
• Breaching prohibition order (10 year) x13;
• Breaching prohibition order (lifetime) x13;
• Possession of firearm without license x10;
• Careless storage of firearm x11; and
• Possession of a weapon dangerous to the public x12.
Ailsby has been released and is awaiting a court date scheduled for January 31, 2023.
Members of the public who suspect drug or gang activity in their community can call local police, or contact Crime Stoppers at 1-800-222-TIPS (8477). Crime Stoppers is always anonymous.
ALERT was established and is funded by the Alberta Government and is a compilation of the province's most sophisticated law enforcement resources committed to tackling serious and organized crime.