Redcliff gets a Wendy's establishment 
Posted on February 7, 2023 by Ryan Dahlman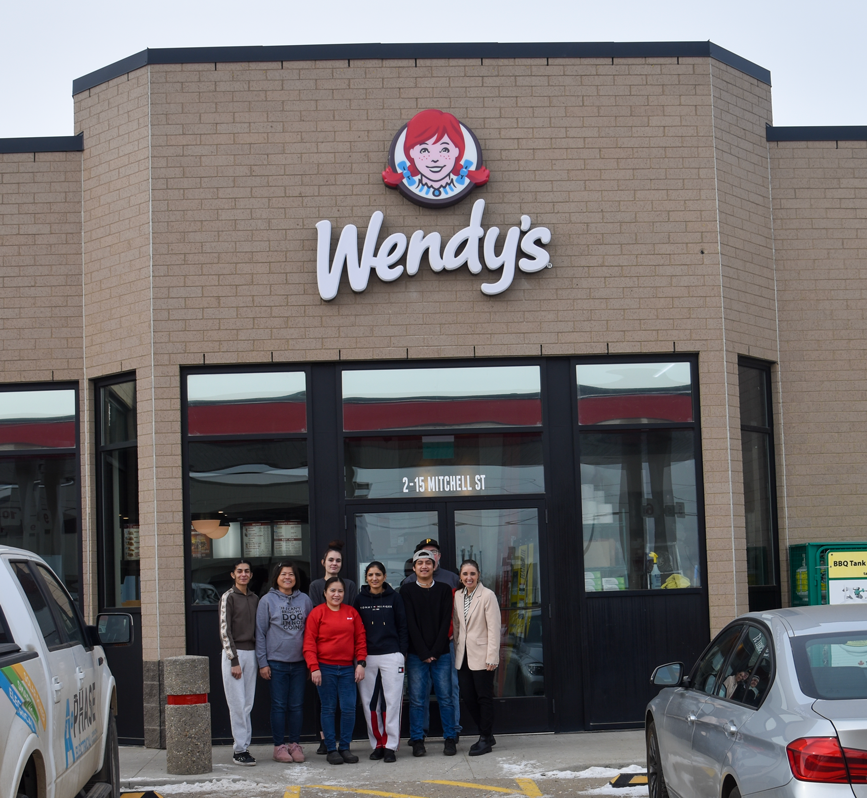 Sarah Tollestrup (right) and her new team pose for a portrait outside of the new location. There's only a few finishing touches to put on inside before opening. Photo by Anna Smith.
By Anna Smith
Commentator/Courier
A brand new stop for those heading out on the Trans-Canada, as well as another simply craving a burger — Redcliff's very own Wendy's opened Feb. 3, right up against the Co-op gas bar.
This isn't their first restaurant by far, said Sarah Tollestrup, Director of Operations, but they're pleased to be bringing the chain to the community.
"This is our seventh Wendy's that we're opening, and then we have 20 Tim Hortons, so our 27th restaurant in total," said Tollestrup. "We've actually been looking for a second location in Medicine Hat for a really long time. We've looked in a few different areas and then my husband, who also works for the company, he's the CFO, he works with a lot of realtors across Alberta. They kind of brought this to his attention and we really love the idea of something that was already built, something that already had a drive-thru, we could do a quicker conversion."
Already, Tollestrup says she sees great potential for the location, being so close to the highway and in a community with energy like Redcliff's. 
This isn't the first restaurant they've built in a smaller community, with a Tim Hortons in Hanna, and opening locations outside of the larger cities can present unique opportunities not only for the business, but the community as well, said Tollestrup.
"What's nice about the smaller communities is a lot of younger students maybe don't get a chance to have a job because  high school jobs just aren't readily available," said Tollestrup. "And so we're in a lot of small towns and we've learned that each market is different and unique and we actually really love being a part of small town Alberta."
Setup has gone well, said Tollestrup, though the smaller building has created some interesting adjustments, such as the smaller dining area. She predicts that they're going to see most of their traffic via the drive thru, or from people who will be in and out such as students, although she hopes the seating area will still see some use.
"It's a smaller footprint than what we're used to, but we figured Redcliff is a small town, and we don't want to go too big," said Tollestrup. "I'm really optimistic and excited for Redcliff and I love growth, I love opening new restaurants and being part of different towns and learning what works and what doesn't work, always."
Something that has been a surprise is how readily they were able to assemble their new team for the location, with both experienced management that has worked with Wendy's for some time, and those who are just coming into the business, which has Tollestrup and her team excited for what's to come.
"The town has been great to work with, and for the most part, it's been very positive and optimistic," said Tollestrup, ready for the new opening. "We're ready for the people here to give us any feedback that they might have. We're here to serve and be a part of the community and provide jobs and support in the community, after all."