Hills are Alive Music & Dance Cultural Festival to grace Cypress again
Posted on February 14, 2023 by Ryan Dahlman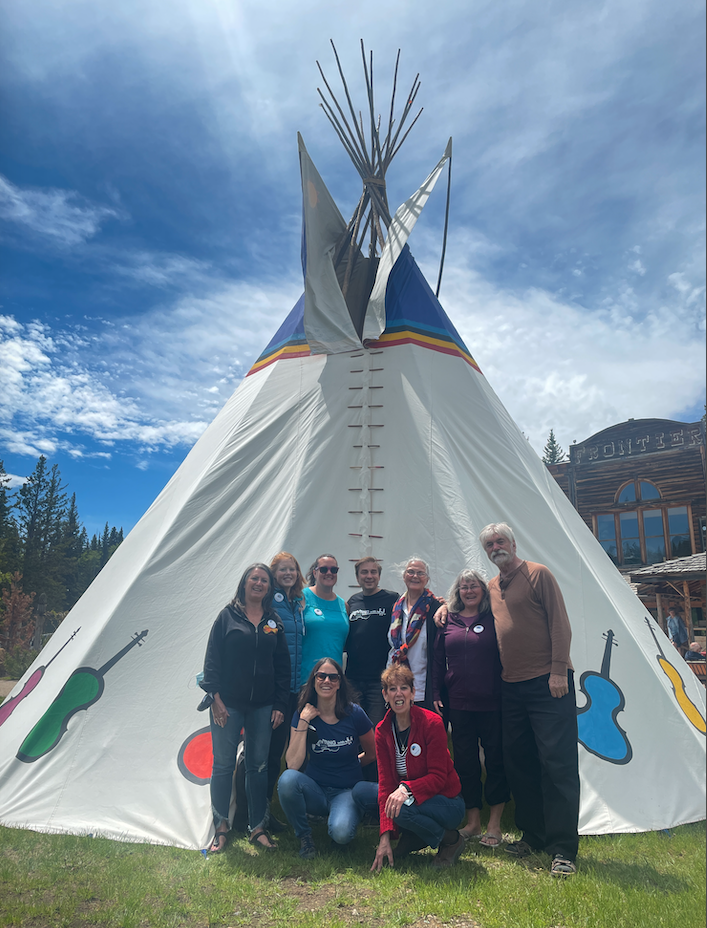 Fiddle students pose with their instructors, Twin Fiddles duo musicians JJ Guy (back centre) and Gordon Stobbe (right) during The Hills Are Alive Music and Dance Cultural Fest at Eagles Nest Ranch. PHOTO BY JOLYNN PARENTEAU
By Anna Smith
Commentator/Courier
Nestled in Cypress Hills, the delight that is the Hills are Alive Music & Dance Cultural Festival is returning to its full glory this June.
"It is an amazing event that showcases the Metis and Aboriginal Culture and brings together many talented musicians, dancers, and cultural teachers, in a traditional setting of tipi's and trapper's tents," said Amy Cross, Miywasin Cultural Coordinator. 
Eagle's Nest Ranch will be host to a variety of activities of the course of the 4-day event, said Cross, from musical  instruction in fiddle, piano, guitar, mandolin, and banjo, to the creation of various crafts, traditional native games for young children and youth, Elders Storytelling, and even Genealogy Resource venues.
"This year, it's exciting because although we know COVID is still here, we've been able to open our event up and be a little bit bigger. So we have a larger, we have more people registering this year. So for it's coming together, everyone is super excited that we're able to host this event," said Cross. 
While organizers are going to be careful to prevent the spread of any illnesses, they're looking forward to reuniting with old friends and making new ones.
"We've had people all the way from babies to 94 years old attend the event. So it's open to everyone," said Cross. Entry to the event is only $150 for the four days, to help keep it accessible to anyone interested in attending, which includes all of the instruction, as well as meals and cultural activities.
"We try to make it very affordable, so everyone can attend and enjoy," said Cross. "We're about at half capacity right now, looking at it. So we have enough, we still have room available to register."
There will be accommodations on site for those looking to stay, from the rustic bunkhouses to space for tent camping and unserviced RV parking.
The event has been running for 13 years now, well on its way to becoming a tradition for those who make a regular appearance. 
"It's like a family reunion every time we come back to the events," said Cross. "Like it's just such a unique heartwarming, and it just fills your soul. You come back rejuvenated. So it's exciting that we're able again to be able to offer this to a larger number of people."
Those interested in attending can find more information at miywasincentre.net, or make their reservation by calling the centre itself.