Man faces charges of flying plane while impaired after crash near Swift Current
Posted on May 29, 2018 by 40 Mile Commentator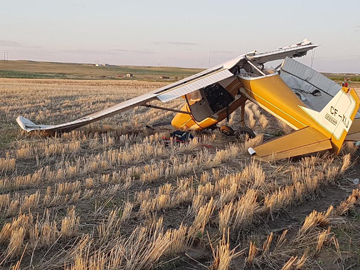 Photo courtesy of Swift Current RCMP There were minor injuries and no fatalities in this Swift Current plane crash, which police attributed to the pilot's impairment.
Southern Alberta Newspapers
A Redcliff pilot will appear in Swift Current Provincial Court June 27 to answer to charges that he was impaired while operating an airplane that crashed.
Calvin Pahl, 42, was piloting a small Cessna passenger plane that went down in a field on the north side of the Trans-Canada Highway four kilometres west of Swift Current Tuesday at 7:30 p.m.
Swift Current RCMP say Pahl and his passenger suffered only minor injuries in the crash, which happened after the plane clipped some trees and struck the ground about 1.5 kilometres after taking off from a grid road.