Shaw Taylor brings 'A' game to Blues at the Bow
Posted on February 3, 2015 by 40 Mile Commentator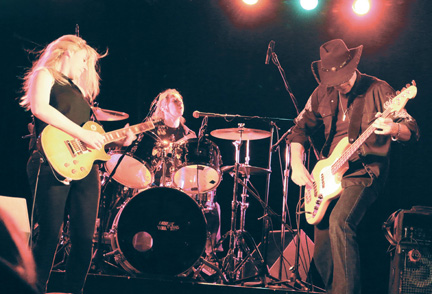 Joanne Shaw Taylor and Bandmates, Paul Lamb and Layla Hall put on a stellar performance at Blues at the Bow.
By Jamie Rieger
They were a collage of extreme talent when they hit the stage at Blues at the Bow on Saturday evening,
Britain's Joanne Shaw Taylor, along with bassist Paul Lamb, and drummer, Layla Hall, both out of Detroit put on a show that brought the house down. Shaw Taylor with her sultry voice and extraordinary guitar skills could hold her own all by herself, but with the strong playing of Lamb, and the talents of Hall, they were a triple threat on the stage.
Each performer brought to the show their "A" game and fans were amazed by the quality of musical performance they were taking in in Bow Island.
Hall's drum solo right before the band took a break had the people on the dance floor stopping what they were doing and those in their seats in awe of the stellar performance they were witnessing.
Shaw Taylor was already a well-accomplished guitarist, having toured with Dave Stewart of Eurythmics, when she first met Lamb and Hall a number of years ago in the United Kingdom when his band opened for one of her early concerts.
"They opened for me in the United Kingdom and things just clicked musically and personally," she said.
Lamb and Hall have been performing with Shaw Taylor for about six years, primarily as her United States band. By this time, she was a well-accomplished guitarist.
At 16 years old, she had already been playing Blues music for a couple of years and when she was performing at a charity fundraiser for breast cancer. It was there she first met Dave Stewart (of Eurythmics fame) and gave him a demo CD of her music.
"He called me almost right away. He used to drive me around and we would be listen to music. He instilled in me the importance of being a musician and not just a guitar player," she said.
Lamb calls Shaw Taylor's newest album, The Dirty Truth, her best to date.
"This is her strongest piece of work to date," said Lamb who has a Detroit based band with Hall, called Paul Lamb and the Detroit Breakdown.
Shaw Taylor said she just sat down and started writing when her latest album was a work in progress.
"I really wrote it at the last minute and it was very easy. Some albums you fight with to get them finished and when you are forcing yourself, things just don't happen. It was not like that with this one," she said.
She has a classical guitar background and said her father was a strong influence on her style of music when she was growing up in Birmingham, England.
"I was listening to all the same music as the other kids my age, but my dad was very influential. He even helped me get my first band together," she said.
Shaw Taylor said she was meant to play Blues at the Bow a couple years ago, but things did not pan out, so she was pleased to kick off her North American tour in Bow Island on Saturday.
"This was meant to happen two years ago. It's so nice that has finally all come together for us to play here," she said.
The audience on Saturday evening are pretty glad it finally came together too.