New digital weigh scale for PVL residents
Posted on February 24, 2015 by 40 Mile Commentator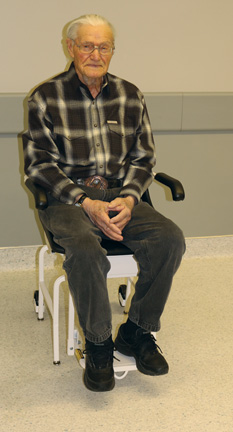 Pleasant View Lodge resident, Ralph Lee sits in the new portable, digital weigh scale that allows people to be seated while being weighed. The weigh scale made possible because of a donation by the Foremost Legion through their Poppy Fund.
By Jamie Rieger
Pleasant View Lodge residents will now have an easier time getting weighed after the Foremost Legion contributed $2,247.06 for the purchase of a portable digital weigh scale that allows the person being weighed to be seated rather than having to step up onto the scale.
"At times, it is hard for them to get on the regular scale, so with this there will be less chance of them falling," said  Karen Waldbauer. "Plus, we can pull a wheelchair in and use it that way. This something we would not have been able to purchase on our own."
The Foremost Legion gives back to the community through its poppy fund each year, alternating between the Coutts, Milk River, Warner area and the Foremost area.
"We have about 20 residents from the Foremost, Etzikom area in the Lodge and several veterans here who have been members of our Legion for a long, long time," said Raylene Hobbs, poppy fund chair.