Jake's Gift coming to Bow Island
Posted on April 7, 2015 by 40 Mile Commentator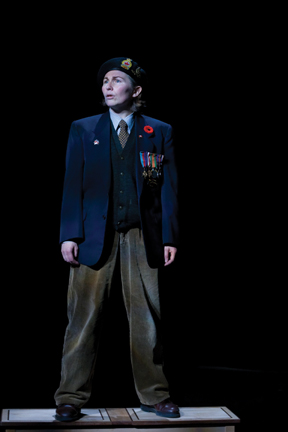 PHOTO COURTESY OF JULIA MACKEY - Julia Mackey, shown in her portrayal of Jake, will be bringing her play about a WWII vet who travels to Normandy, to the Veterans Supper at the Bow Island Legion on Apr. 16.
By Jamie Rieger
Just over a decade ago, Julia Mackey traveled to Normandy, France for the 60th anniversary of D-Day and what has evolved from that 10-day trip, where she interviewed veterans, is a play that has since earned many awards.
Jake's Gift tells the story of a WWII veteran who returns to Normandy for the anniversary of the D-day landings and meets a 10-year old girl named Isabelle.
"Jake is a veteran who goes back to find his brother's grave and meets Isabelle, who forces him to confront his demons from the past," said Mackey, who moved to Canada from England with her family when she was three years old.
Mackey will be bringing Jake's Gift to Bow Island on April 16 for the Bow Island Legion's annual Veteran's Supper.
"Bow Island will be the first show of this tour and I have only done a Veterans Supper once before," said Mackey of the tour that will travel to eight Legions across Alberta. "I want to bring the story back to our veterans and I really enjoy smaller communities the most because that is where most of the guys came from."
Mackey also said that 100 percent of proceeds from merchandise sold at the event goes back to the local Legion for their Poppy Fund.
The Veteran's Supper and Jake's Gift takes place at the Bow Island Legion on April 16. For further information or to purchase tickets (deadline April 9), contact 403-545-2449 or 403-545-6652.