Fundraiser for 4H exchange program
Posted on April 14, 2015 by 40 Mile Commentator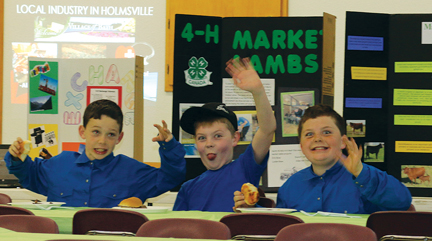 North 40 Mile 4H Beef Club members, Aiden Van Tryp, Carson Buekert, and Everett Van Tryp have a little fun with the photographer at the North Forty Mile Beef Club fundraiser last Wednesday.
By Jamie Rieger
Members of the  North 40 Mile 4H Beef Club held a supper and silent auction last week to help them raise money for an exchange program taking place this summer.
From July 8-16, seven members of the 4H club from Holmesville, New Brunswick will be hosted by the North 40 Mile Beef club members and the money raised from last week's fundraiser will go towards various events the club is planning, including touring several southern Alberta landmarks, such as Writing-on-Stone Provincial Park, Red Rock Coulee, and Waterton Park.
"This fundraiser will help pay for some of the events," said club reporter, Eric Bouw.
Guests to the fundraiser were treated to a slideshow presentation of Holmesville, including information on their agriculture industry, where 42 percent of the province's cattle are in the dairy industry and 50,000 acres of potatoes are grown each year. New Brunswick also has 200,000 head of hogs.
From Aug. 5-13, eight members from the North 40 Mile club will go to Holmesville to take in a little of  what New Brunswick has to offer.