Carelessness leads to fire at fertilizer plant
Posted on May 5, 2015 by 40 Mile Commentator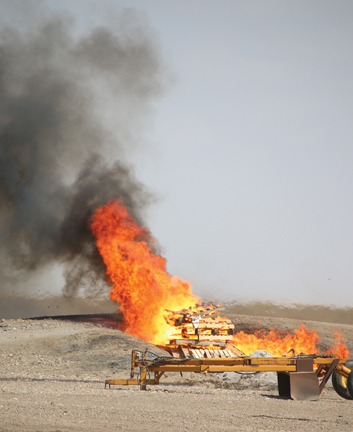 This pallet fire erupted in a pit at a fertilizer plant south of Bow Island on Friday afternoon when the winds were blowing in excess of 60 km/hour.
By Jamie Rieger
Throwing pallets into a fire pit unaware that there were hot spots from a previous burn could have ended with far more serious consequences on Friday afternoon.
With winds blowing at approximately 60 kilometers an hour, the wooden pallets at Alberta Granulation south of Bow Island lit up quickly and unbeknownst to the workers inside the fertilizer plant.
"One of our guys had thrown some pallets on there and never figured it would start burning," said Jake Wieler, manager, adding that the pallets only burned for a few minutes before staff extinguished the flames.
County fire chief, Nathan Cote was out of town and not aware of the fire, but said people need to take precautions to ensure fires are properly extinguished and all controlled fires must have somebody oversee them at all times.
As well, even with a fire permit, no fires are allowed if weather conditions are such that a fire could not be kept under control.
Nobody was watching over the fire and no water source was kept close by during Friday's fire.