Another journey about to begin
Posted on May 26, 2015 by 40 Mile Commentator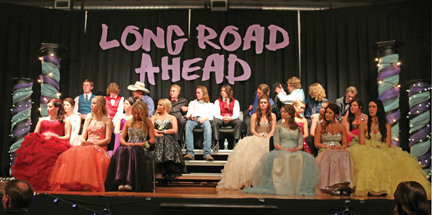 Twenty-four Foremost students held their graduating ceremony on Friday evening.
By Jamie Rieger
As one leg of a journey ends, another begins and the 24 graduates from Foremost School had this in mind when they selected "Long Road Ahead" as the theme for their ceremony.
Following their banquet on Friday evening, the graduation exercies opened with welcoming remarks by Darci Snortland and an introduction by principal, Paul Leighton and vice-principal, Jay Diemert.
Graduate Shannon Van Buskirk than did a beautiful job in the singing of O'Canada.
Guest speaker for the ceremony was Dr. Jenni Karl, a former Foremost student, who has gone on complete her PhD in Behavioural Neuroschience at the University of Lethbridge and is currently working on post-doctoral research at the Brain and Mind Institute at Western University in London, Ont.
Karl told the graduates that they must first discover what their passions are before they can follow them.
"It is difficult when people tell you to follow your passions, your dreams if you have not yet discovered those passions and dreams," said Karl. "And you have to work hard to find out exactly what you are going to be passionat about. It is said that it takes 10,000 hours to become an expert in something, so find out what your passions are first. Then, you will succeed."
Valedictorian Brady Van Staalduine provided his fellow graduates with further words of advice as they embark on the next leg of their journey that will take them into adulthood and the real world.
Cypress-Medicine Hat MLA Drew Barnes and Prairie Rose School Division superintendent also provided them with words of advice.
Family and guests were also treated to a slide show presentation featuring photos from of each graduate.
Diploma presentations closed out the ceremony.