County debates new gravel for Dunmore
Posted on May 26, 2015 by 40 Mile Commentator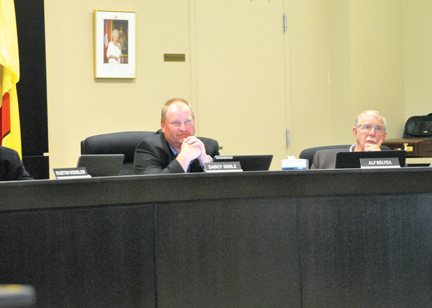 Cypress County deputy reeve, Darcy Geigle and Ward 9 councillor Alf Belyea watch on during a county meeting last week.
By Tim Kalinowski
There was some disagreement over what exactly to do with the badly broken up section of Second Avenue outside of Sterling Trailer Sales in Dunmore at last Tuesday's Cypress County council meeting. Council members all agreed something had to be done, but debated which option was best given the County's budget situation.
A sum of $50,000 had previously been allocated to fix up a 200 metre section of road which runs in front of Sterling Trailers to the TransCanada Highway approach nearby. Reeve Richard Oster had hoped a further $50,000 might be allocated to pave the entire section. The County sought out tenders to do the work, but the numbers were kept in camera and not disclosed publicly.
The road right now is brokenly paved for much of the stretch and gravelled roughly in another.
Oster felt repaving the entire road would be a great way to reward Sterling Trailers for its decision to invest and expand in Dunmore.
"A fella just spent a couple million dollars on a new building and we have a piece of crap gravel in front which really takes away from his business. It's something that needs to be done," said Oster.
However, most other council members disagreed.
Ward 8 councillor LeRay Pahl said the tender they had received from companies to pave that section was just "unbelievable for such a short stretch." Pahl advocated for new gravelling to be done instead by County workers, and to stick to the previously agreed upon $50,000 budget.
"It was $50,000 to do that job and we all thought it was more than adequate to do 200 metres of road," said Pahl. "It should be. I still think we can go in there with our own crews, dig out four or five inches, slam some coal mix in there and pack it down good. It will last for a great many years."
Deputy reeve and Ward 2 councillor  Darcy Geigle engineered a compromise where the entire section would be gravel locked and oiled to smooth it out and keep dust down. The work will be done by the County's own crews to stick to the $50,000 budget for the project.
The motion passed with a unanimous vote. The work will be undertaken this summer.