St. Mike's graduates ready for a new adventure
Posted on May 26, 2015 by 40 Mile Commentator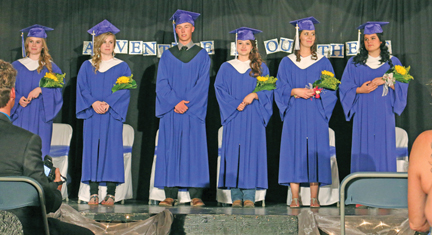 The 2015 graduating class from St. Michael's School are about to venture off onto new adventures. Their graduation ceremony was held at the school on Saturday evening.
By Jamie Rieger
The graduating class from St. Michael's School are about to embark on a new adventure, an adventure that will see many of them leaving their hometown for further education and careers.
Throughout their ceremony on Saturday evening, the grads were reminded that they are leaving high school well-prepared for any adventure they may encounter.
"Whatever adventure you face, remember do not be afraid. The Holy Spirit will be with you," said Father Fred Monk, in his address to the graduating class.
Chris Smeaton, superintendent for Holy Spirit Catholic School Division told the grads that it will be the people skills they have acquired that will take them far in life.
"Your adventure starts in your heart, in your home, in your school, in your community," said Smeaton. "This small school, this small town, and your family has prepared you well. You are prepared in the soft skills. The academics is not enough. Employees do not just need people with skills, they need people with people skills and you have that."
Cypress-Medicine Hat MLA Drew Barnes told them to make sure they take the time to enjoy those adventures.
"Today marks an important step in into the unknown. It is edge of the unknown that we call adventure," said Barnes. "Remember to enjoy the adventure for the sake of it and don't get too caught up in the destination. Embrace the journey for what it is."
Bow Island mayor Gordon Reynolds told the graduates that their early adventures shaped them into the who they are today and they can look forward to many more adventures in the future.
"I hope they take you to wonderful places, and maybe even back home to Bow Island."
Guest speaker, Chris Koch told the graduates to not be afraid of what may lie ahead. Koch was born without limbs and has traveled the world; at times by himself.
"For me, I have had a tremendous time. I have never been bullied, never been teased and I have traveled all over the world," said Koch.
Koch told the graduates of traveling alone to Europe, but not feeling afraid until he was already in the plane and in the air.
"I had eight hours to think about my decision and I started worrying about getting robbed. Then I thought that I did not want to look back on my life and say I wish I had done this or I wish I had done that," he said. "Getting robbed was the one thing I was afraid of and the exact opposite is what happened to me. People insisted I take money…When I got back home to Nanton, I donated it to a children's  organization."
"Get out there and do as much as you possibly can. Traveling is one of the best ways you can grow, learn, and find out how strong, how resilient you are," said Koch.
Valedictorian Jessica Crooymans gave her fellow graduates profound, and at times, humorous words of wisdom and recognized all of the influences who have encouraged them as they grew up in Bow Island.
"Without you we never would have gotten to this point. I am proud to say I belong to this community," said Crooymans. "You have all made this journey enjoyable and bearable."
The ceremony closed with prayer and the traditional tossing of the caps.