670 Collective wants more mountain bikers in region
Posted on June 2, 2015 by 40 Mile Commentator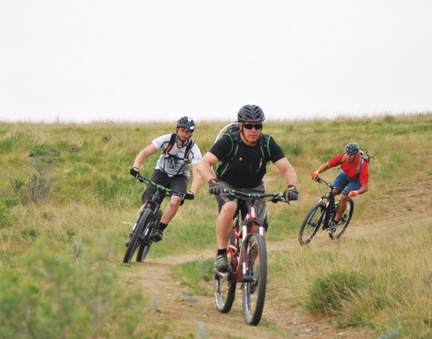 Commentator/Courier File Photo.
By Tim Kalinowski
Over the past few years the 670 Collective Mountain Bike Club has been making waves in southeast Alberta for its involvement in community life and its trail making ambitions for the region. Made up of about 100 bikers who meet up regularly to ride together and make trails, the 670 Collective sets the idea of a hobby club on its ear.
"What we want to do is make this area like a destination place for mountain bikers," says 670 Collective president and trail master Blaine Fairbrother. "To do that you want to have in any one place 40-30 km. That makes it worthwhile for somebody to come and spend a weekend. Cypress Hills is getting there, for sure. Medicine Hat and Redcliff, we're just starting."
Fairbrother, who has been a mountain bike enthusiast for the past 20 years, says the 670 Collective started out with a simple ambition—to find more places for its members to ride. And where they couldn't find trails to make them.
It has become much more than that over the past two years by getting involved in making a bike skills park in Redcliff, creating a successful annual racing event with the "The Battle Creek Showdown" and starting the "Bikes for Badgers" bike donation program for local kids in need.
"As we grew peoples' interests expanded, and we have even more things going on," explains Fairbrother. "We are trying to make our club as community-minded an organization as possible."
Fairbrother says what binds the members of the 670 Collective together, though, is their fundamental love of the outdoors and of challenging themselves out on the trails.
"Mountain biking is very physical. You are constantly climbing and jumping. It's also the bike handling skills which are technical. With road biking it is physical, but you are always basically on the same type of terrain. Out here it's tight turning. It's narrow trails. It's bumps and technical features like rocks, and all those kinds of things, which just make it a very dynamic and interesting sport."
A heightened sense of adventure is also a huge component of the mountain biking experience for passionate riders.
"You get to see nature in different ways and experience things that others don't usually get to experience," confirms Fairbrother. "It is like hiking in that way, but there's an adrenaline component to it as well."
Fairbrother is grateful for all the local support the 670 Collective Mountain Bike Club has received from since starting out in 2013.
"In the very beginning when we got started we approached Cypress Hills Park (to re-open and build up Beaver Trail for mountain bikes) and they were very receptive," remembers Fairbrother. "They understood what a volunteer organization like ourselves could bring to the table… We've also signed an agreement with the Town of Redcliff, which is a big deal for us. So we have in this area about 9 km of trail. This area is very unique with the Badlands riding. It's very interesting and beautiful, and for mountain biking it's very technical and challenging."
Fairbrother says there is more work to be done in the Cypress Hills, as well as in Medicine Hat and Redcliff, to expand trail access, but the 670 Collective is well on its way to accomplishing its goal of bringing more mountain bikers to southeast Alberta.
"We have been seeing more and more people coming from Calgary and other areas to see what we have going on. It gets better all the time."
For more information on the 670 Collective Mountain Bike Club membership, special events and weekly rides visit their website at http://www.670collective.ca.