Redcliff loses beloved business leader
Posted on June 6, 2015 by 40 Mile Commentator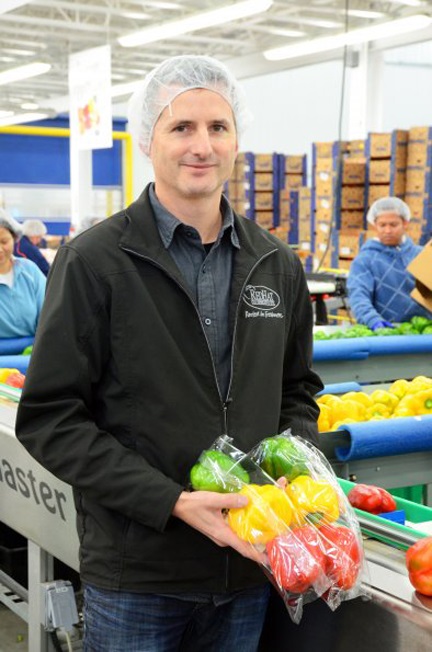 Southern Alberta Newspapers File Photo by Emma Bennett - Lyle Aleman is pictured giving a tour of Red Hat Cooperatives in 2013.
By Tim Kalinowski
Redcliff and the entire Medicine Hat business community has lost one
of its brightest lights.
Red Hat Cooperative chairman Albert Cramer confirmed last Friday the
passing of its young and charismatic general manager Lyle Aleman in a
tragic automobile accident on Thursday afternoon on the 3300 block of
Gershaw Dr. SW.
"We are all stunned," Cramer told Southern Alberta Newspaper's
Collin Gallant on Friday. "He was a very big part of a lot of things
in the community… and basically the CEO of Red Hat. He looked after
all of it. He helped build the Red Hat. He grew up in the Red Hat and
he loved it."
Aleman was at a board meeting on Thursday afternoon and headed
through the city towards Highway No. 3 when the accident occurred.
Aleman's Nissan truck was struck head on by a northbound
International flat deck truck and trailer. According to the MHPS the
accident occurred at about 3:30 p.m.
Aleman had worked at Red Hat for 17 years and had a deep love of the
business. Despite his keen acumen in the boardroom, Aleman never
strayed too far from his own greenhouse roots. His father Mike Aleman
was the founder of Aleman Greenhouses in Redcliff.
In an interview in 2013, Aleman spoke of his dedication to
representing his local growers' interests even as Red Hat was
increasingly becoming a more nationally oriented business.
"When we look at our co-op, a success here has been to try to
provide value for our growers every year," said Aleman. "We
concentrate on what we need to do: And that's greenhouse product.
The other thing that works for us is one grower has one vote. It
doesn't matter how big you are; it doesn't matter how small you
are."
Aleman presided over a $4.5 million Red Hat expansion in 2012,
doubling the size of company's packing plant in Redcliff. Aleman
also helped Red Hat Cooperative become a major player in the Canadian
food market, providing fresh produce to companies such as Sobey's,
Loblaw's, Co-op, Walmart, Costco, Save On Foods, AG Foods and Safeway.
Beyond his work with the business, Aleman was a dedicated husband and
father of five. He was active in the Christian Reformed Church and
with Medicine Hat Christian School. Aleman was 44 years-old.