Karl wins Governor-General gold medal
Posted on June 9, 2015 by 40 Mile Commentator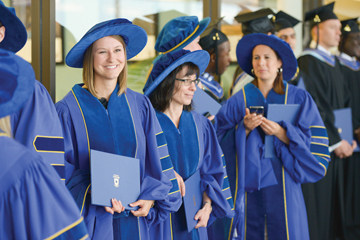 PHOTO COURTESY OF UNIVERSITY OF LETHBRIDGE - Jenni Karl received the prestigious gold medal for the Governor-General at her recent graduation from the University of Lethbridge.
By Jamie Rieger
A past Foremost resident has been awarded a prestigious honour for her work in behavioural neuroscience at the University of Lethbridge.
Jenni Karl, who was the guest speaker at the recent Foremost graduation ceremony, was presented with the Gold Medal of the Governor-General at her own convocation at the UofL recently.
"I got an email about two weeks before the convocation that I would be receiving the award and it really was a nice surprise," said Karl, who is currently at Western University in London, Ontario where she is a post-doctoral fellow. "I had a great experience a the UofL and a tremendous amount of support."
Karl received the award for her work as both a master's and doctoral student in behavioral neuroscience.
After high school she pursued her BSc in Neuroscience at the University of Lethbridge where she joined Dr. Ian Whishaw's laboratory to study motor behaviour in a rodent model of Huntington's disease. After working for one year as a research assistant in Melbourne Australia, Jenni returned to the University of Lethbridge and Dr. Whishaw's laboratory to complete her MSc, and PhD in Behavioural Neuroscience.
"My dissertation research was conducted under the supervision of Dr. Ian Q. Whishaw at the Canadian Centre for Behavioural Neuroscience and was directed at understanding how non-visual somatosensory inputs contribute to the control, evolution, and development of skilled reach and grasp movements in humans," she said.
Her research is directed at understanding how the human brain generates the skilled hand and mouth movements that we use to grasp and manipulate objects. She is especially interested in how these movements and their underlying neural substrates arose through evolution, are established during development, and break down in various neurological disorders. She is currently a post-doctoral fellow at Western University in London, Ontario.
The Medal for the Governor General of Canada is awarded each year for scholastic merit with two levels for University purposes:
-Gold for study at the graduate level
-Silver for study at the undergraduate level
The Governor General's Medal is awarded to the student who graduates with the highest standing in his or her institution.
Karl is currently working on her post-doctoral research in Dr. Jody Culham's laboratory at the Brain and Mind Institute at Western University in London, Ont.
"I am using functional magnetic resonance imaging (fMRI) to determine whether skilled hand movements directed towards one's own body are mediated by the same or different neural substrates as hand movements directed towards external objects," she said.
Karl said she started working on this research in September and is still in the process of collecting data. She said her long-term research goal is to how the human brain can generate skilled hand and mouth movements and particularly how these movements have arisen through evolution.