Summer storm wallops several communities in Cypress County
Posted on June 17, 2015 by 40 Mile Commentator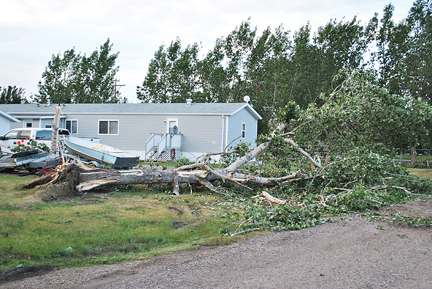 There was lots of broken trees and property damage in communities all over southeast Alberta after a nasty storm blew through on Friday afternoon. The photo shows some of the damage in Seven Persons.
By Tim Kalinowski
From Bow Island to Seven Persons to Redcliff to Medicine Hat, and areas further afield, a vicious storm driven by over 100 km/h cyclonic winds took its toll on trees, property and power grids last Friday afternoon.
Over the weekend citizens from all over Cypress County were digging out, sweeping up and hauling away fallen branches.
For most of Friday evening tens of thousands of residents all over southeastern Alberta were without power as electrical crews worked into the early hours to bring current back online by replacing downed lines and snapped power poles.
Property damage was widespread, but there were no reports of any injuries as a result of the nasty summer storm.
Marble sized hail fell in some places during the storm, but there was no estimate on crop damage as of Monday's publication date.
Clean up of downed branches and trees is expected to continue through much of the week.
It is safe to say the summer storm season is here, and anxious residents will continue to watch the skies carefully in the weeks and months ahead.