MacDonald speaks of great need, poverty and high crime in Guerrero
Posted on June 23, 2015 by 40 Mile Commentator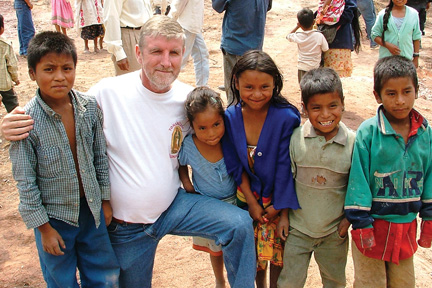 PHOTO SUBMITTED BY FRED MONK - Mike MacDonald, posing here with some of his Mexican friends, joined Mission Mexico a few years ago to help with ongoing humanitarian efforts in Guerrero.
By Jamie Rieger
Students at St. Michaels School in Bow Island recently learned about an ongoing project in Mexico that assists the impoverished with basic needs, as well as helping in build infrastrastructure.
Mission Mexico got its start in 2000 when the parishioners of St. Mary's Parish in Cochrane, where Father Fred Monk was then located, learned that a girl's orphanage in Tlapa, Guerrero, being run by the Sisters of Immaculate Mary was in need of a dormitory. Each parishioner from St. Mary's donated a loonie a week until $100,000 was raised to build the facility.
Being located in one of the most impoverished regions of the country, any opportunities for improvements and advancements were very rare.
But, Mission Mexico has made opportunities more of a possibility for the villagers, and since the building of the dormitory, there has been other projects for the mountain villages of La Montana, including agriculture, small business, and adult literacy, as well as a high school and student accommodations in the village of Potoichan. During the 2013-14 school year, 280 students attended the new high school, a half of them boarding in the accommodations.
Mike MacDonald gave the St. Mike's students an oversight into his journey with Mission Mexico and the hardships he was witnessed there over the years.
MacDonald joined Mission Mexico in 2013. He previously taught at a Calgary Catholic high school, but for the past three decades has spent much of his time in southern Mexico, serving as an assistant to Bishop Alejo Castro.
"Most of my adult life has been in Mexico and it is a country with great need," said MacDonald. "There is 120 million people in Mexico, 40 million with money. That means there are 80 million people struggling, far more than the entire population of Canada."
MacDonald went on to describe for the students the area in which Mission Mexico does most of its work.
"Guerrero is the most violent state in the country. The drug cartels fight to control the drug trade and they kill each other continually, every day," he said. "These people have no real income. Often, they are trying to stay alive and they do not want their children to suffer as they have suffered."
Boys are more likely to get an education of some sort more than girls, MacDonald pointed out.
"The men in the mountains are the decision-makers. The girls often get married as young as 13 to 15 years old," he said. Parents often think that the girl is going to leave, so why should the sacrifice that money for them to go to school. It is much harder for girls to get an education than for boys."
When the high school was built, a teacher was hired, but there were no simple supplies such as chalk or paper. So, Mission Mexico ensured the school had rudimentary supplies in the classrooms.
"The kids are super grateful and we try to do as much as we can with the money we have," said MacDonald. "The people are grateful for all of the little things."
There were 80 graduates from the high school this year and each year, three or four students are chosen to go on to a university. This year, four young girls were selected to go into nursing.
"I went to visit these four girls at university and all want to be nurses. Their village does not even have a nurse or a hospital. They won't get paid for being nurses, but they will know how to help people," said MacDonald. "These girls don't eat breakfast and rarely eat supper; yet, the four of them are willing to do this for four years."
Violent criminal activity associated with the drug cartel is common in Guerrero and one incident last fall made headline news around the world.
"In September of last year, the mayor of the town whose wife's brothers are involved with the drug cartel in the area. There is also a teacher's college in this town. The wife was going to give a speech and was worried about protests," he said. "The police force came in, murdered three, and drove away with 40 people. The government says they have been killed and burned, but nobody knows for certain. This is the reality there."
MacDonald recounted other incidents, such as when he was in El Salvador in 1989 when six Jesuit priests were killed on Nov. 16.
"Somebody I knews was president of the Human Rights Commission in El Salvador and knew I was a good translator, so I was asked to go there and do some work," he said. "I hung around with people who were against the undemocratic government, but when all this happened, I was advised to leave and go back to Mexico. Disappearances happen where I am and in many places in Central Americad. It is very corrupt."
Still, despite all of the risks, MacDonald continues with his work with Mission Mexico, sacrificing time with his own family (wife and daughters are in Regina), and living with little himself.
"I never consider myself poor. Being poor means you don't have choices. As long as you have choices, you are not poor," said MacDonald.