Bow Island says goodbye to Gershaw School
Posted on July 6, 2015 by 40 Mile Commentator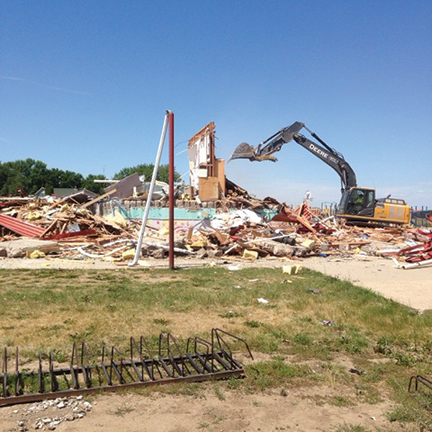 PHOTO SUBMITTED BY DEREK BECK - It was a bittersweet moment at Senator Gershaw School when the last wall came tumbling down, bringing an end to an era.
By Jamie Rieger
It was with bittersweet emotions that many who watched the recent demolition at Senator Gershaw School. Former students and staff, as well as curious onlookers watched as the heavy equipment dismantled the structure piece by piece; some watching with tears in their eyes as they said good-bye to their old school.
Prairie Rose School Division chair, Stuart Angle, who attended Senator Gershaw in his early education years, said that while it is sad to see the old school being torn down, it was time to replace it.
"Back when it was built, some 60 years ago, all of the schools being built had the same design. Senator Gershaw was built where it was because the land was not deemed any good for farm land," said Angle. "There were some sloughs that ended up costing the school division about $100,000 in the 1990s. The place used to flood all the time."
Angle said that over time, the school was requiring more and more dollars being spent in repairs and upgrades to the point where replacing it was the most efficient option.
Angle was instrumental in bringing computers and the Internet to SGS, far ahead of what other school divisions were doing for technology at the time.
"We were the first in the region to have an Internet connection and of course it was dial-up," said Angle, recalling that he had to first convince administrators that the new technology would be a good idea.
"Internet at the time was hugely expensive, about $2 a minute for dial-up. There were insane costs involved," he said. "It was the word processing with the computers that was a big thing for me. We were the first school to have three computer labs so all our students had access."
Audrey Beresowsky attended Senator Gershaw School as a young girl and has many fond memories.
"When I started Grade 1 in 1946 I went to a little school house where Grades 1 and 2 were combined. There were three of these little schools. Grades 7,8, and 9 were at Senator Gershaw Intermediate School and high school at Senator Gershaw School," said Beresowsky, who graduated in 1958.
Beresowsky was in the second class to attend the then new Senator Gershaw School, which had opened the previous year.
"I remember it being a really exciting time for us kids," she said, recalling many incidents of mischief that took place during her school years.
Beresowsky said all of the students were very happy when Senator Gershaw School was built because it had a gymnasium, something not common in rural schools in those days.
"That gymnasium was really nice to have. I always enjoyed Phys Ed and was always involved with lots of sports," she said.
Lots of former students have surely been recalling their years at Senator Gershaw as the old school comes down to make room for the new facility where next term's students will attend.
Principal Derek Beck said that there is a bit of work left to be done over the summer, but once class is back in session, it should all be complete.
Angle said that the time had come to see the old school be replaced and people should remember that the school is just a building and memories will be made too, in the new school.
"What makes the school is the staff and students. The school is just a building, but it's a building where the people make things happen and make the memories," he said.