Canada Day at Golden Sheaf Park
Posted on July 6, 2015 by 40 Mile Commentator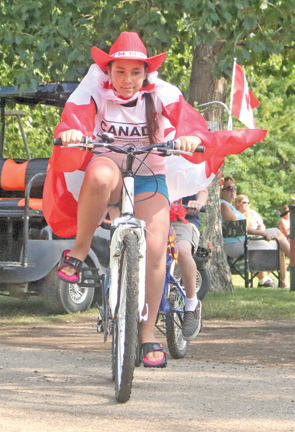 This girl was one of several dozen who participated in the bike parade at Golden Sheaf Park on Canada Day.
By Jamie Rieger
For close to two decades, the Golden Sheaf Park Association has been organizing top-notch Canada Day festivities for their visitors.
From a bike parade for the young people, golf cart parade for the adults, and live entertainment for all, the park really puts on a great celebration for the nation's birthday and this year's festivities were no different.
Frank Sleeking, president of the association, said it is the park staff and the volunteers who help out that make it all possible.
"Our caretaker, Shirley Burgess and our groundskeeper, Larry Brunet have really worked hard to get the park ready for the celebration. The park is beautiful," said Sleeking. "We have great volunteers who come out and help with the festivities, too. Without them, this event probably wouldn't happen."
Cypress/Medicine Hat MLA Drew Barnes was in attendance to say a few words about Canada Day and the tremendous job volunteers did in cleaning up the park from a vicious wind storm last month to prepare for the celebration.
"Canada celebrates its 148th year as a vibrant country and this celebration here shows how well we can all work together and how strong we can be. The job you guys have done with the storm clean-up has been fantastic and Golden Sheaf Park exemplifies what Canadians have been doing for 148 years," said Barnes.
The Canada Day celebration also included entertainment by RC Karaoke, beef on a bun supper, and concluded with a fireworks display after dark.