Canada Day celebrated in Redcliff and Suffield
Posted on July 6, 2015 by 40 Mile Commentator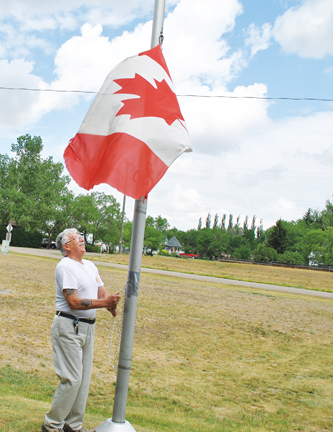 Dave Dennis, president of the Suffield Historical Society, raises the flag at the Community Hall.
By Tim Kalinowski
If there is one day of the year where people are unreservedly proud to be Canadian, it's Canada Day. And nowhere is that more true, it seems, than in the smaller, rural communities in our region.
It may not be the all out fireworks, musical extravaganzas or monster crowd pleaser draws you see in the larger cities, but the kinds of Canada Day gestures you see in small towns are absolutely genuine, heartfelt and encapsulate the strong sense of pride local citizens feel in belonging to this larger Canadian identity we all equally share.
The Courier was very fortunate to attend two such events last Wednesday; one in Redcliff and one in Suffield.
In Redcliff Canada Day kicked off in Lions Park with a community pancake breakfast at about 9 a.m. This was followed by the opening of the kids' fun zone in the park with games, patriotic temporary tattoos and clowns.
As 10:30 a.m. rolled around local singer/ songwriter Michelle Lavallee took to the stage and led the assembled crowd in a beautiful rendition of O Canada. As you looked around at the crowd, dressed in their bright red Canada hats and t-shirts singing proudly along, you knew every person there, young and old, understood what it means to be Canadian on this the most important day to recognize that common identity in the entire year.
After Redcliff it was over to Suffield for a free barbecue lunch at the local community hall. The community's recreation association and historical society co-hosted the event. And they welcomed a very special guest: Lt. Col. Sean Hackett, outgoing commander of DRDC-CFB Suffield.
Before lunch got started a simple flag-raising ceremony was held just outside the community hall as the assembled citizens sang O Canada.
Next it was inside for two special presentations. Lt. Col. Hackett presented the Suffield Community Hall with a commemorative plaque celebrating the base's long-standing relationship with Suffield going back 80 years.
Hackett then received a beautifully framed photograph of turn-of-the-20th century Suffield's main street when the community was still under construction. It was actually Hackett's staff who had originally received a collection of six previously unseen photographs of early Suffield from a family who used to live in the area.
Hackett, who admits to being a history buff, had the photographs turned over to the Suffield Historical Society for restoration and preservation. It was the historical society who gifted CFB Suffield with the beautiful print and frame of one of the photos as a thank you. Hackett assured Suffield residents the framed picture would be put in a place of honour when he returned to base.
Speeches and presentations concluded, Suffield residents dug into some tasty barbecued hotdogs and burgers with a special Canada Day cake for dessert.
Redcliff and Suffield celebrated Canada Day in their own way and their own style, but both communities put their finger on what it means to be Canadian. Fireworks and extravaganzas have their place, but Canada is ultimately a feeling that finds its truest expression in the hearts of its citizens.