Elkwater Rodeo features local cowboy talent
Posted on July 6, 2015 by 40 Mile Commentator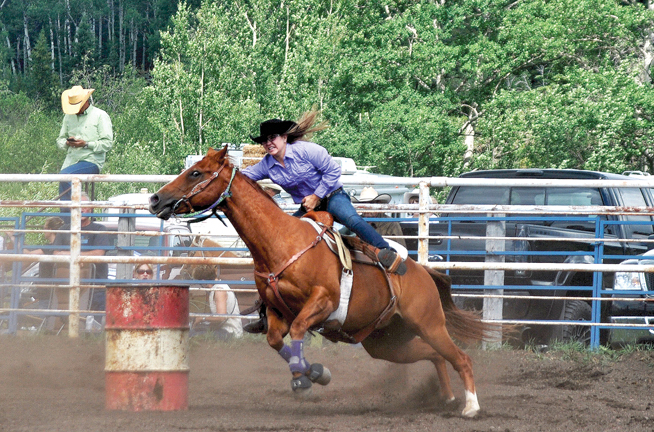 Erica Brost rides hard down the barrel-riding course at the Elkwater Rodeo in 2015
By Tim Kalinowski
There's something about a rodeo. It's not anything you can really put your finger on; it's kind of a state of mind. You head down to the rodeo grounds, set up your comfy lawn chair, roll your cowboy hat down to keep the sun out of your eyes, and you sit there and you watch. It's riveting. It's mesmerizing, and the hours pass by in a series of images. Rider on his horse, lasso moving through the air, the sudden jerk as the calf goes down. Heart-pounding action as the rider dismounts suddenly, overturns the calf and finishes his three-legged tie down with a triumphant raising of his arms.
At the Elkwater Rodeo last Wednesday these wonderfully riveting qualities of rodeo action were there, but there was something else too.  Most who came out to compete were not highly paid professional cowboys. These were local kids from local families you can see around town any day of the week.
In this way, the rodeo illustrated very effectively how interwoven the ranching lifestyle into every facet of rural life in the region. Yes, it would have been exciting to have high adrenaline bucking events like saddle-bronc, bareback and bullriding at the rodeo. It would have been nice to see the ultra macho bulldoggers in action.
But it was also nice to see local cowboys and cowgirls having their day. It was nice to see such a strong emphasis placed on the next generation of ranchers and riders in the area.
For those craving some top draw rodeo action, the team-roping and tie-down roping events provided that. But for those who just wanted to go down to Elkwater to bask in the warmth of a sunny day among neighbours and friends, and watch the amazing rodeo kids we have in this area strut their stuff in the big corral, there was plenty of that to go around too.
You couldn't have asked for better weather or a better way to celebrate Canada Day then sitting ring-side at the Elkwater Rodeo.