Parks Day celebrates beauty, nature
Posted on July 21, 2015 by 40 Mile Commentator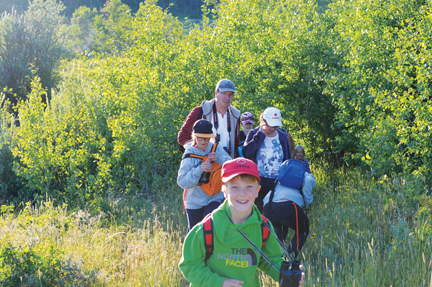 The Goitzsch family, from Saskatoon, had a great time enjoying the Cypress Hills Twilight Trek in this 2016 picture. The Park is expected to be busy in 2021.
By Tim Kalinowski
The community of Elkwater and Cypress Hills Park celebrated Parks Day all day on July 18. Not only were the park's regular programs offered free all day long, guests were treated to a special live Ron Mason open mike concert on the beach during the afternoon, a twilight trek and wonderful fireworks show in the evening.
The community hall was also buzzing with creativity for the Parks Day crafts and tradeshow during the afternoon. Later on the word "BINGO" could be heard shouted loudly on the evening air as the hall's cash bingo swept players up in the action.
But of course the star of the day was the beautiful Cypress Hills themselves and the natural beauty they encompass. The day held fabulous beach weather with warm temperatures and sunny skies. And the evening cooled off nicely and treated visitors to one of the most amazing and lingering sunsets of the entire summer as the sun sank in yellow, burning orange and purple slowly over the hillside across the lake.
It was a perfect opening act for the colourful fireworks display that capped off a day of celebration at the park. As people gathered on lawn and by the beach to watch the last lingering rays of evening a crescent moon with a bright star beside it rose in the southeast above the marina. The little boats with their pilot lights set out on the lake casting beautiful silhouettes on the water with the back drop of the setting sun behind them. Although the wind off the lake was chilly people simply huddled closer together; spirits rising brighter as the darkness came. A darkness which exploded in great balls of colour, smoke and light as spectators were treated to a 15 minute fireworks display.
It was perfect close to a fantastic Parks Day.