A little recognition for nostalgic column
Posted on July 28, 2015 by 40 Mile Commentator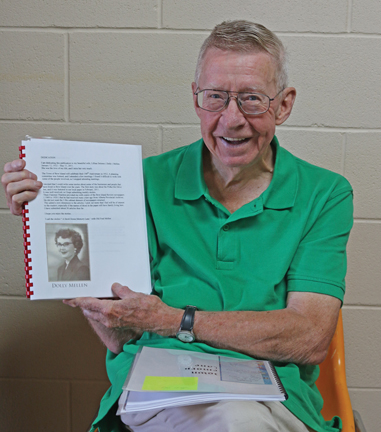 Down Memory Lane columnist, Fred Mellen displays one of his books that features a compilation of his beloved Down Memory Lane columns. Mellen recently received a letter from Cypress-Medicine Hat MLA Drew Barnes commending him for his efforts.
By Jamie Rieger
Readers of the Commentator have come to look forward to the weekly "Down Memory Lane" columns and appreciate the nostalgia as they read through tidbits of local news from yesteryear.
Fred Mellen, the author of the columns recently received a letter from one reader who thanked him for his weekly submissions.
Cypress-Medicine Hat MLA Drew Barnes sent Mellen a letter expressing his appreciation of the weekly column.
"Your article, "Down Memory Lane #211 was a fascinating read. It is very important for community members to look back at what happened in their community in the past, and your creative article is an amazing opportunity for people to do just that," writes Barnes in the letter. "I really enjoyed having the opportunity to see how things have changed, yet how they haven't changed at all."
The idea for the column came about when Bow Island was in the early stages of planning for its Centennial and Mellen thought some historical articles would be a nice way to recognize the early years of the community and went to work researching out copies of the Graphic.
"When I started, it was about the local businesses and it just grew out of that. Initially, I had to get old papers from the University of Alberta," said Mellen. "I had about 50 of them that I sent to a friend in Lethbridge and he suggested I compile them into a book."
Mellen's first 65 Down Memory Lane columns were then printed into a book ahead of Bow Island's Centennial in 2012.
"I was starting to run out of old newspapers at the U of A archives when the library told me they had a box of newspapers there that I could go through and I had help from Clarence Thurston," said Mellen, adding that he could sit for hours poring over old copies of the Graphic.
Mellen said the recognition he received from Barnes was a very nice gesture and was greatly appreciated.