New doctors settle in as Dr. Edwards gets ready for retirement
Posted on August 18, 2015 by 40 Mile Commentator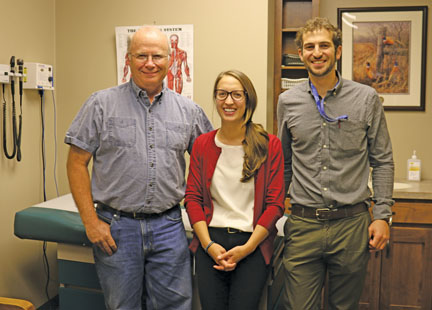 Dr. Edwards (left) ha been familiarizing Carolyn Fletcher and Ben Wasserman with his medical practice in Bow Island and Foremost as he prepares for retirement. Drs. Fletcher and Wasserman will be taking over the practice for the next year.
By Jamie Rieger
As Dr. Lynn Edwards winds down his medical career and starts planning his retirement, he is preparing two young doctors to take over this practice for the next year until a permanent physician can be found.
For the past 30 years, Dr. Edwards has been practicing medicine in both Bow Island and Foremost, as well as assisting at the maternity clinic in Medicine Hat two or three days a month.
"I've never been bored. There has always been challenges; but I liked the community. If I didn't, I wouldn't have stayed. It has been good for me and good for the community," said Edwards.
Edwards has also been teaching medical students for more than two decades and for the past 10 years, has been instructing Rural Alberta South University of Calgary resident students. "It is good for them to see what small communities are all about. Some have never been to rural areas. To be a rural doctor can be challenging and most of my students have said they have learned as much here as they have at the university."
Carolyn Fletcher and Ben Wasserman both studied Medicine at the University of British Columbia and their residency in the Rural Alberta South program in Medicine Hat where they met Dr. Edwards and he approached them about coming to practice in Bow Island and Foremost.
Both have had some experience practicing Medicine in rural settings.
"We have been in small towns doing work in clinics, hospitals, and emergency wards. When this opportunity came up we welcomed it. We want to be in a rural town. It is what we want to do," said Wasserman.
With just a couple weeks of practicing Medicine at Edwards' facility, Fletcher said she that other than the two not seeing much of each other as they are each on call once every three nights, the couple are enjoying settling into the community.
"So far, so good and the community has been so friendly. It is a very nice place to spend some time," said Fletcher.
Edwards said he and his wife were waiting for a mission call for the Church of Latter Day Saints, which they are expecting soon.
"Our son will go first, then we will go a few weeks later. I don't know where or when yet," said Edwards.